Recipe: Japchae-Inspired Spaghetti Squash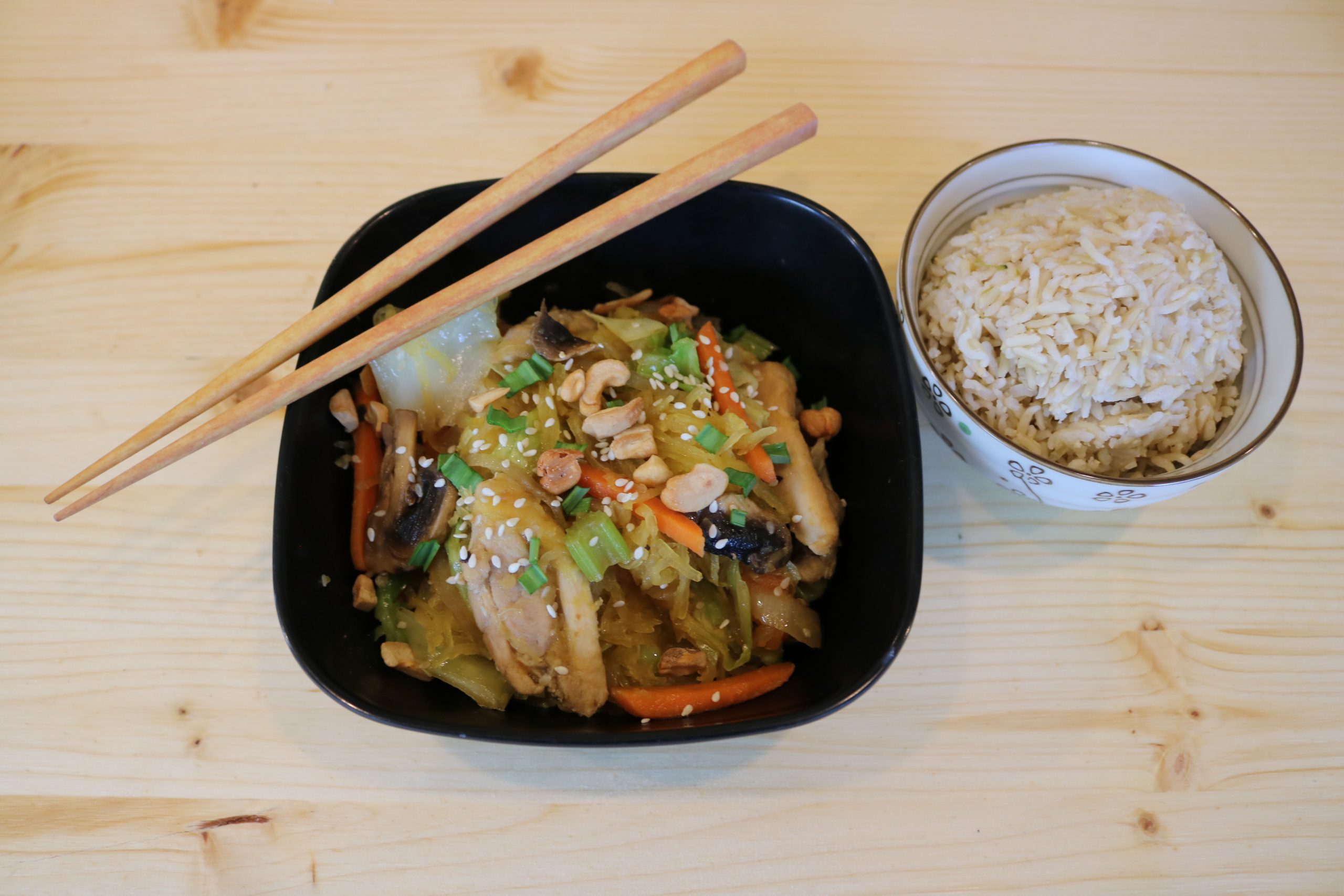 Japchae (pronounced jap-chay) is a savory, umami Korean noodle dish I always get whenever I visit a local Korean day spa. It is one of my favorite things to eat and always conjures feelings of healthy, relaxed self care for me. 🙂 Typically, japchae is made with sweet potato glass noodles (you should definitely try it that way also!) but I've made this spaghetti squash version because I have piles of spaghetti squash in my winter food storage left over from my summer garden.
It's also a great dish to practice your chopstickin' skills on! Enjoy – and let me know in the comments if you tried japchae for the first (or 50th) time!
Japchae-Inspired Spaghetti Squash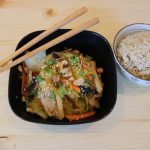 Japchae is a delicious, umami Korean dish typically made with sweet potato glass noodles. This spaghetti-squash version is a great seasonal option since spaghetti squash stores great throughout the winter. Serve with a scoop of brown or white rice and enjoy!
1/2 large spaghetti squash
3 stalks celery (chopped)
3 carrots (cut into thin strips)
4 garlic cloves (minced)
1 medium onion (sliced thinly)
3-4 mushrooms (sliced)
1/2 head cabbage (shredded)
3 chicken thighs (sliced)
1/4 cup low-sodium soy sauce
2 Tbsp brown sugar
3 Tbsp sesame oil
2 tsp sesame seeds
sesame seeds, green onions, cashews (optional – for garnish)
Carefully slice spaghetti squash in half and scrape seeds and pulp. Place half in a microwave for 15 minutes.

While squash is heating, mince garlic and slice onions, carrots, celery, mushrooms, cabbage, and chicken.

In a heated skillet over medium-high heat, brown chicken pieces on all sides.

When cooked through, add garlic, onions, and celery. Cook for 2-3 minutes until onions begin to be translucent.

Add carrots, cabbage, and mushrooms, and gently stir fry until cabbage is softened.

Add soy sauce, brown sugar, sesame oil, and sesame seeds. Stir until mixed through.

Remove cooked spaghetti squash from microwave with a towel or pot holder (it will be very hot). Place paper towels or a kitchen towel on the spaghetti squash and press the extra water from the squash.

Use a fork to scrape the spaghetti squash strands into the skillet with the rest of your ingredients. Stir to combine.

Optional: garnish with sesame seeds, chopped green onions, and cashews
This recipe may contain too much sodium if you are on a low-sodium diet. To reduce the sodium by about half, exchange the soy sauce for coconut aminos.
1 serving contains 271 calories, 14.3 g protein, 22 g carb, 15.8 g fat, 742 mg sodium, 123% DV of vitamin A, 44% DV of vitamin C, and 33% DV vitamin K.