What Registered Dietitians Eat in a Day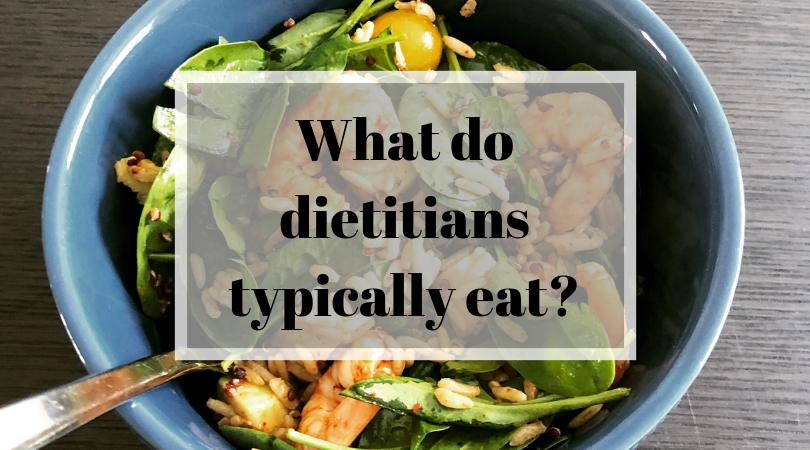 My last two posts covered the basics about what dietitians are (and do) and what I eat in a day as a Registered Dietitian. In the latter I talked about how everyone's healthy life looks different. It's important to find what works in your own life, not to follow a random diet plan or copy what someone else does. Along those lines, I thought it might be fun to explore what a normal day looks like for other dietitians. This two-part series will feature several different dietitians working in different areas and what they ate in a given day. You'll read about three different dietitians below – stay tuned for more in an upcoming post!
Molly Koczarski, MS, RDN, LDN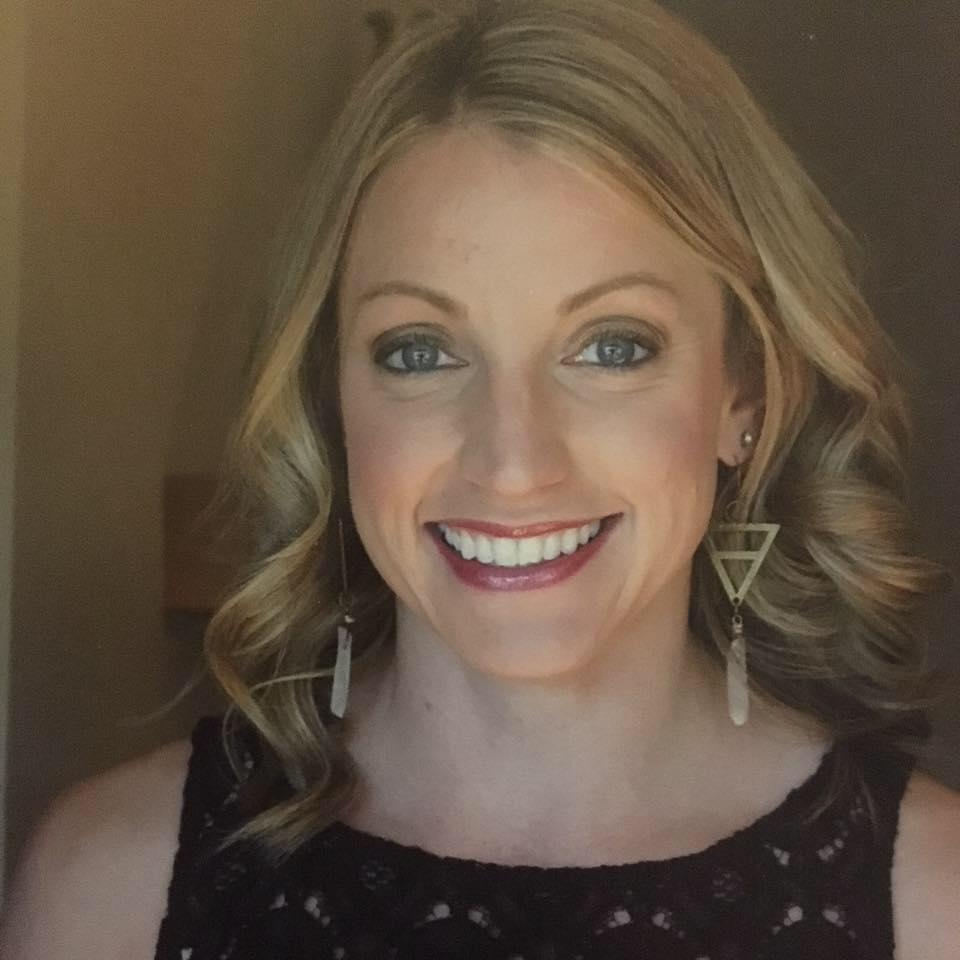 Molly is a Registered Dietitian located in Whispering Pines, North Carolina. She has been a dietitian for 11 years and she recently graduated with her Master's Degree from Central Michigan University. She is just about to start a new position as an outpatient dietitian for First Health of the Carolinas where she will be working with a wide variety of medical conditions including diabetes, obesity, heart disease, food allergies, etc. When Molly isn't working she likes to spend her time with her husband, 4-year-old daughter, and dog. She enjoys fitness, cooking, and coming up with new recipes. She is an avid peanut butter lover and loves a good glass of wine.
Best nutrition advice: There is no "one size fits all" diet. Focus on moderation and mindful eating. Food should be enjoyed, not restricted. Building a healthy relationship with food is the key to success!
What she ate in a day: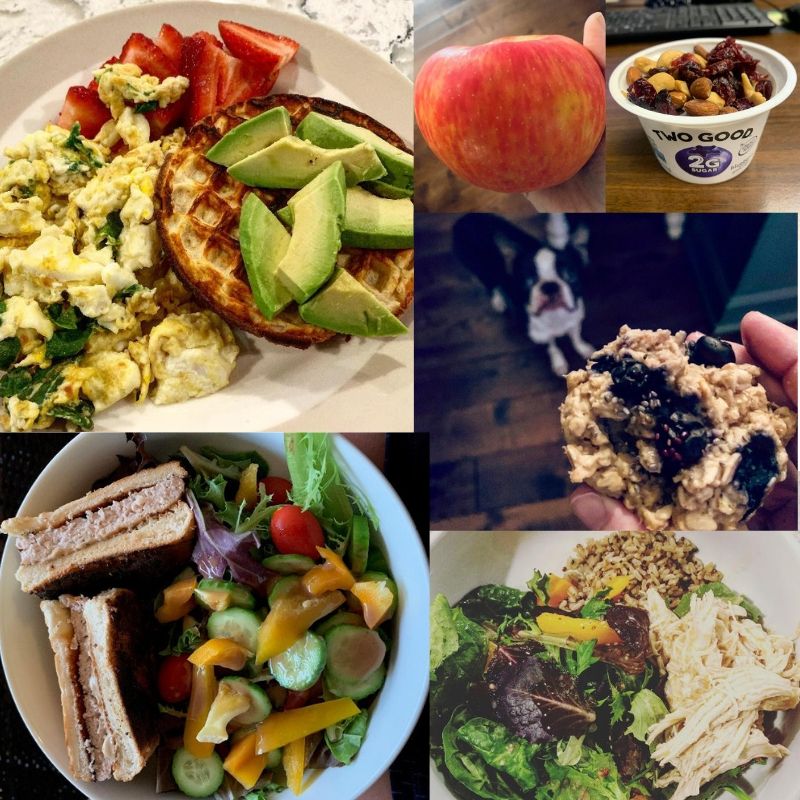 The day started at 6:30 with a hearty breakfast of eggs (1 egg + 2 egg whites) mixed with some arugula, a side of fresh strawberries, and a Birch Benders protein waffle with slices of avocado on top.  After seeing a few patients at work I found myself pretty hungry and snacked on this delicious Greek Yogurt by Light and Fit with a serving of Trader Joes "Just a Handful" trail mix. Hit the spot!
After going on a 30-minute lunch walk I found myself ready to eat again. I prepped a macro bowl for lunch today and it consisted of spring mix and some raw vegetables, some instant pot shredded chicken, and a side of brown rice and quinoa mix. I added some oil and vinegar on my salad for some healthy fats, as well as sprinkled some hemp seeds on top. At 3:30 with an hour to spare at work, I found myself once again ready for a snack so I chomped on a yummy and delicious apple to hold me over until dinner.
After a good workout it was time to eat dinner. With the weather being so nice lately we decided to grill some turkey burgers. We had a salad on the side for our veggie. I added some avocado on my bun (but you can't see it in the photo). Before getting settled for the night I wanted to have a little "dessert" so I had some chamomile tea (not pictured) with one of my delicious homemade protein muffins. My dog Izzy wanted some too, as you can see.
That's a typical day for me. I usually eat 3 meals plus 2-3 snacks throughout the day. I always try to balance out my carbs, protein and fat and really focus on getting in my vegetables. I also opt for healthy fats and definitely don't deprive myself of any particular food or food group.
Anne Corley, MSM, RDN, CD, LC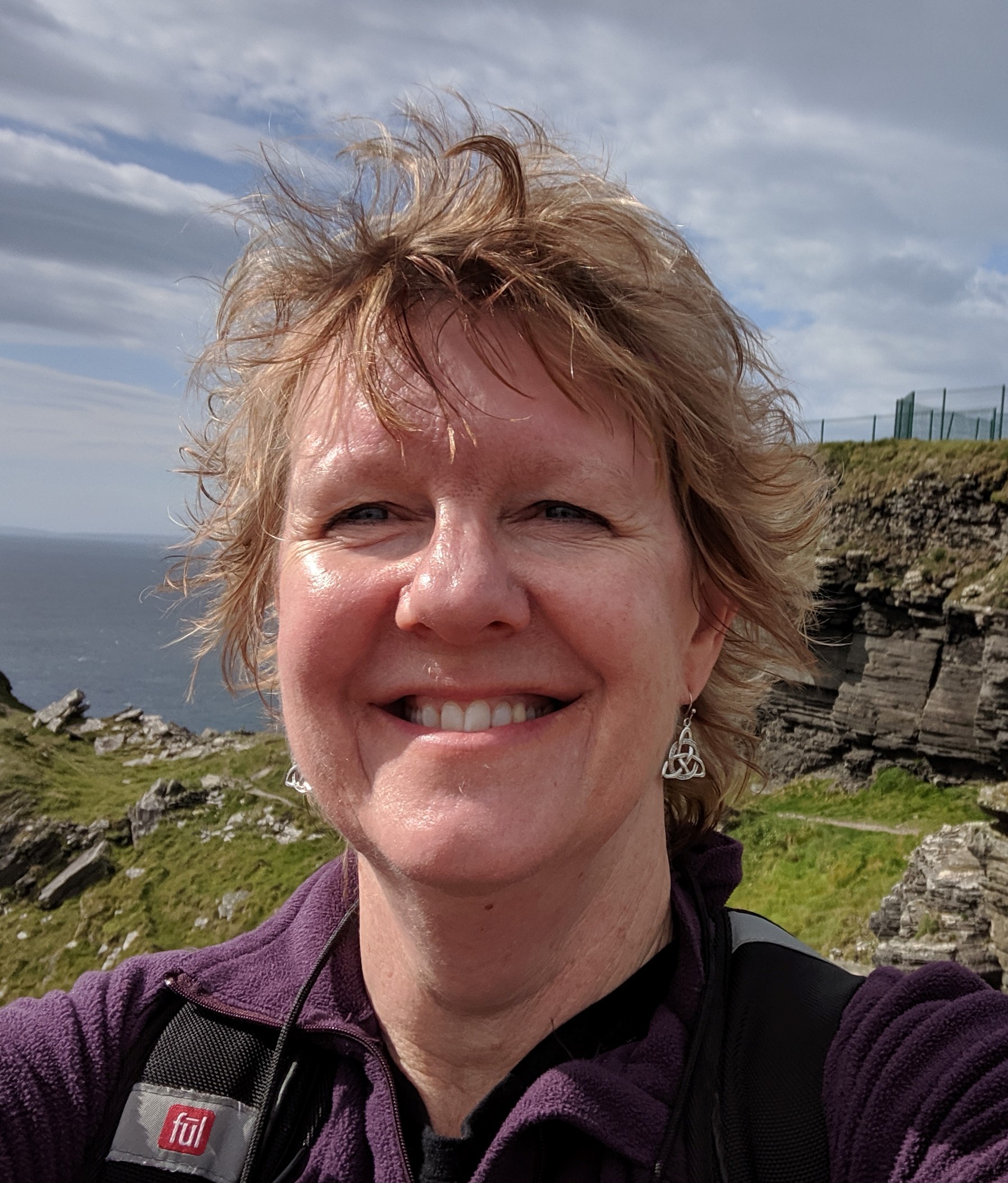 As a Life Coach and Registered Dietitian with over 26 years in clinical practice, Anne is passionate about promoting wellness (physical, mental, emotional and spiritual) with her clients. She loves helping people have "A Ha!" moments in improving their life and their health, and moving their dreams into the realm of the possible. She has partnered with clients who have made significant, meaningful changes in their lives in many areas; health, career, relationships, etc. through her practice Nourish Your Wellness Now. In all areas she has truly enjoyed the opportunity to share her knowledge and experience through coaching, training and instruction in order to help improve the well-being of her clients/patients.
Best nutrition advice: Listen to your gut, literally and figuratively. Eat when you are hungry and stop when you are satisfied.
What she ate in a day: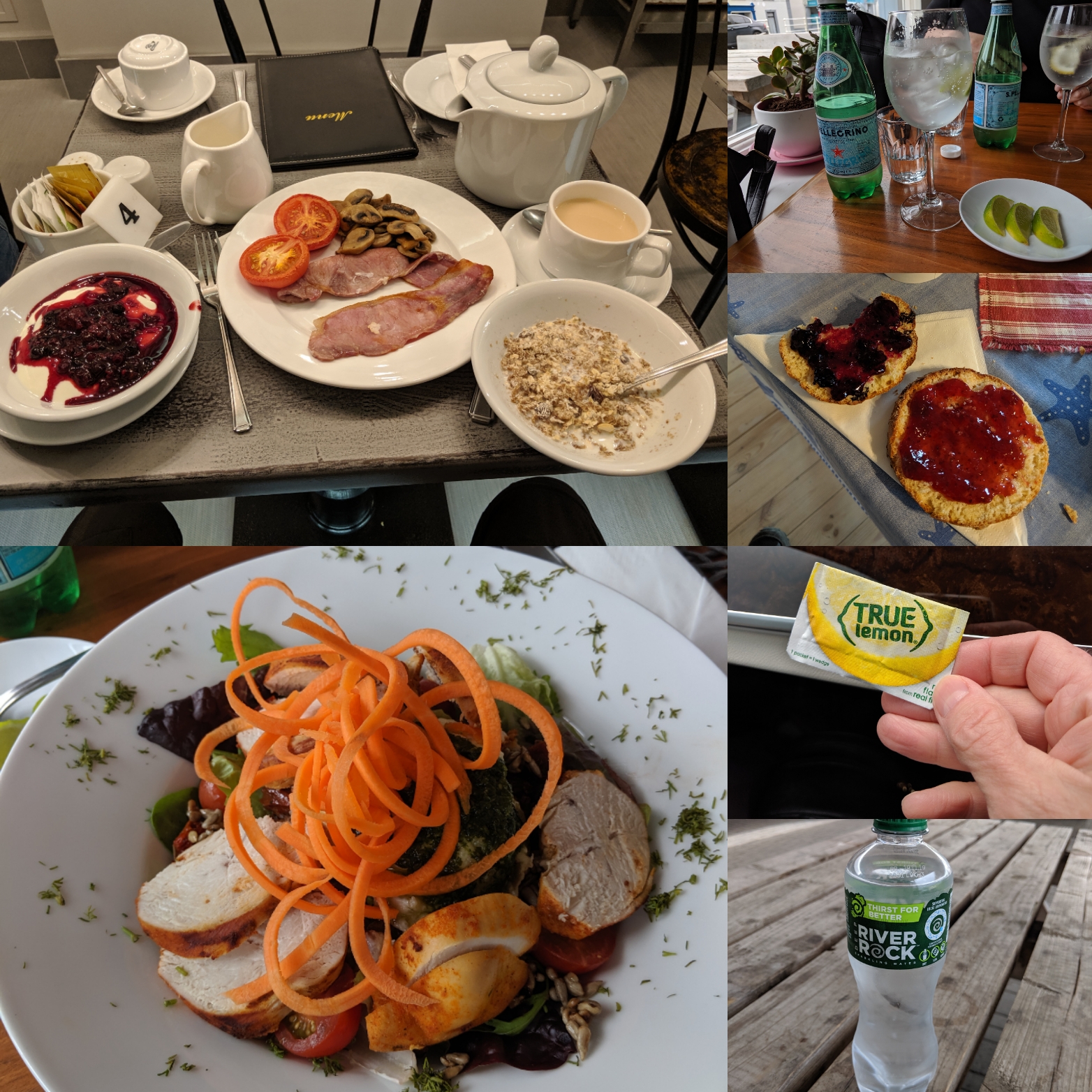 Today I woke up in Dingle, Ireland on a long-awaited trip with my 3 sisters. We've been staying at Bed & Breakfasts all along the way; today was no exception. Breakfast was a fairly typical offering of Continental and hot breakfast. Always there is the push for the traditional Irish breakfast which is bacon, eggs, sausage, black & white "pudding" (blood sausage), tomatoes, (optional sautéed mushrooms & baked beans), and brown bread & toast with butter & jam. Also fruit, yogurt, cereal, croissants, etc. along with tea and coffee. My normal breakfast is a Shakeology smoothie on my way to work, but I figured "when in Ireland…" Plus, have you ever tried to tell an Irish woman who is your host, "No, thank you"? Apparently you just don't do that here. 😉
So up to this point I have been ordering the bacon, eggs, tomatoes, mushrooms (and once the beans…I've never been a fan of baked beans but I thought somehow these might be different. Nope. Not doing that again!) I have not tried the "pudding" at all; I just can't bring myself to do it. Today I ordered bacon (Irish bacon is more like our ham or Canadian bacon), tomatoes and mushrooms, and I had Muesli and plain yogurt with berries. Also, lots and lots of tea using part sugar/part stevia and milk (not sure what type of milk, but it was at least 2% if not whole). I ended up eating two bowls of Muesli and only one of the pieces of bacon.
After breakfast we packed up and left for our Air B&B at the Cliffs of Moher (about a 3 hour drive) with a trip by ferry included. When we stopped at a "quickie mart," as we frequently do, I got a sparkling water and I added True Lemon to it (I drink a lot of water but have never learned to like it plain, so I usually add True Lemon, True Orange, or fresh lemon or lime).
Because the breakfasts have been so big and usually later than I normally eat, we have had "linner" most days and then something light or fun later. Once we got into town, we stopped at a restaurant to have "linner" (lunch/dinner) before our hike on the cliffs at 4:00pm. I had the most delicious salad! Here's the quote from the menu: "mixed leaves, sundried tomatoes, fresh tomatoes, caramelized onion, shredded carrot and honey roasted sunflower seeds with Spanish goats cheese, a hint of pesto and grilled chicken fillet." I had soda water and lime to drink. Normally I would have also checked out the dessert menu, but we didn't have time. We had to hurry through "linner" because we were running short on time. We started the hike a little after 4:00pm; it was 10k distance and about 850 feet of elevation gain and it took us about 3 hours. It was very windy, but we were blessed with some of the most breathtaking views I've ever seen!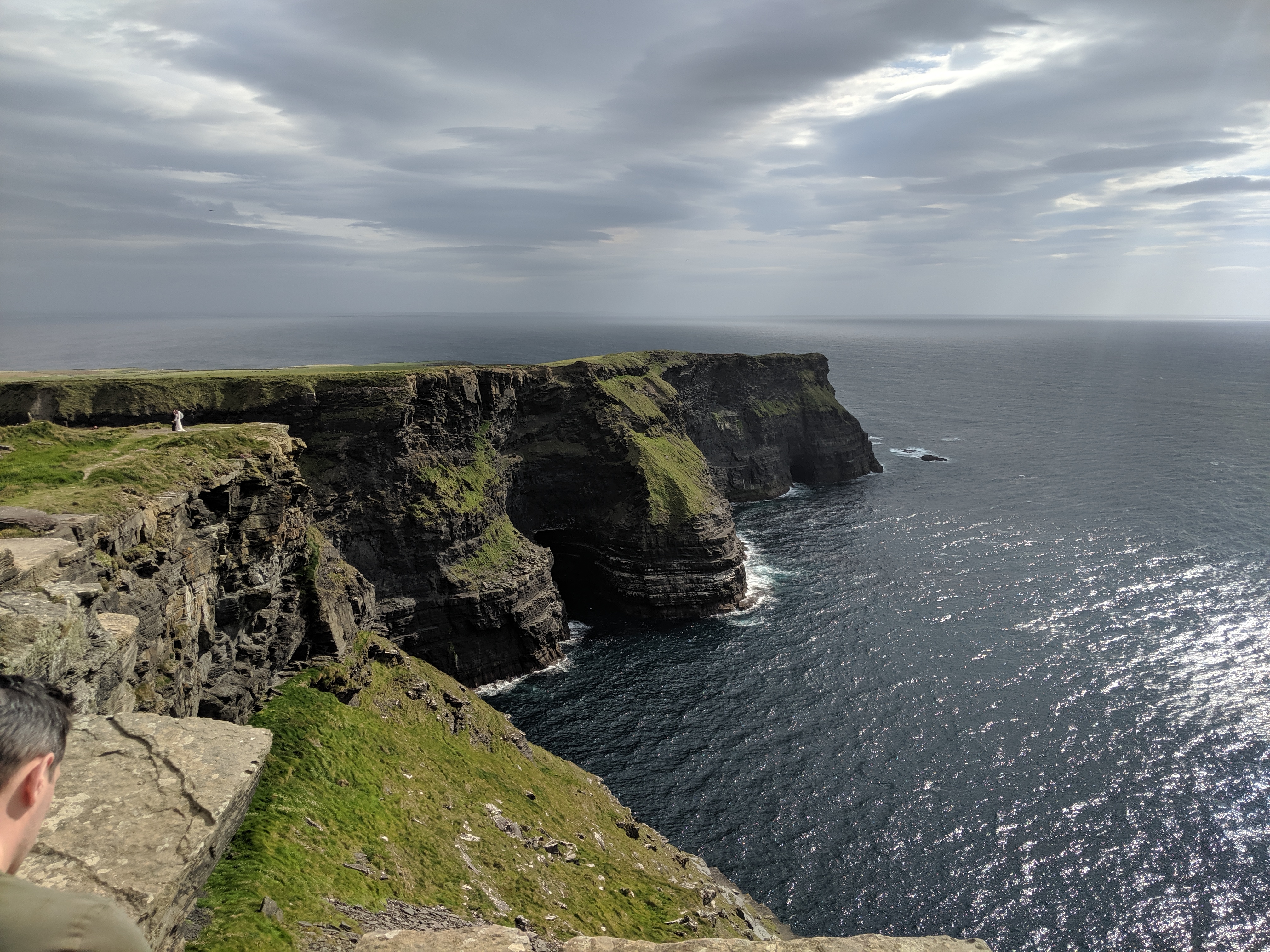 When we returned from the hike (around 7:00pm) our host had made fresh scones for us, with jam and butter and tea or coffee. I had one scone with jam and a nice sized cup of tea, with milk and sugar/stevia. And then chugged a big glass of water!
Danae Shelley, RD, CDE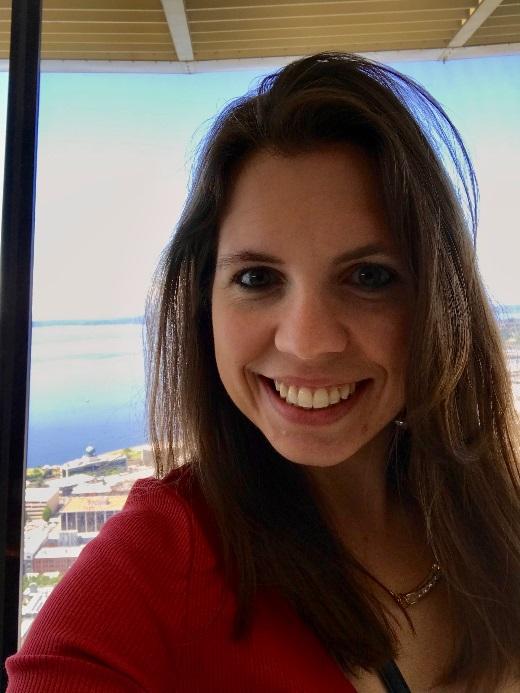 Danae is a dietitian and nutrition supervisor at a nonprofit group of medical clinics based in South Seattle. In July of 2019, she will have been a dietitian for 6 years. For Danae, the years of being an RD have really flown by!
Danae got married in September 2018 and lives in Renton with her husband and their min-pin, Max. They love spending time together and going out and meeting new people. They also enjoy traveling (both around Washington and elsewhere), taking Max to the dog park, dancing (especially salsa and bachata), and trying out new ice cream places!  
Best nutrition advice: Just aim to make one small positive choice every day toward improving your health!
What she ate in a day: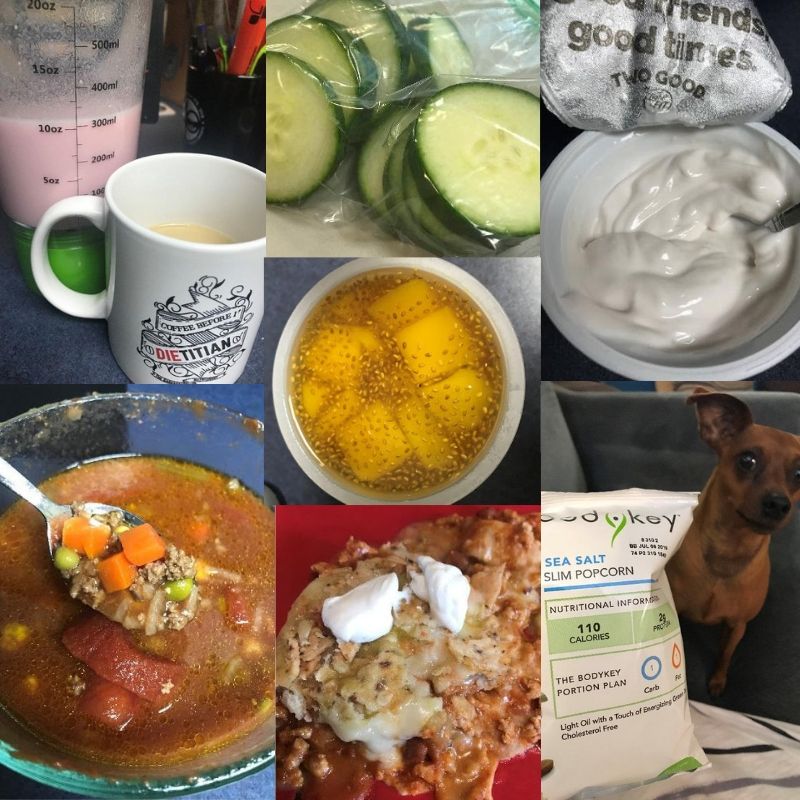 During the work week, I tend to get up with just enough time to shower, get ready, and feed the dog, etc., so I don't normally leave a whole lot of time to make breakfast. Breakfast is usually on the go and usually eaten on my way to work or when I get to work as I prepare for the day ahead. This morning I whipped together a strawberry protein shake made with 1% milk for some added protein that keeps me full all morning, along with my much needed cup of coffee with a few tablespoons of creamer.
Due to a meeting I had at my normal lunch hour, I had to have a little snack to tide me over until I was able to eat. I had forgotten I had an English cucumber in the fridge, so last night I sliced it up and portioned half of it into a Ziploc bag.
In my house, we are the king and queen of leftovers (when we have them)! My husband is tall and eats a lot, so sometimes he eats all of the meal and there isn't any for leftovers. Today was left over vegetable burger soup (I know it's too hot outside for soup, but it's cold in my office with the a/c, so it's not that bad). The soup has lean ground beef (93/7), stewed tomatoes, tomato sauce, mixed vegetables and onion soup mix. I also had a small cup of strawberry yogurt. It's hard to find yogurt that is low in sugar, but this one has 2 grams of sugar and 12 grams of protein. I originally had the fruit cup planned to go with my lunch, but I was feeling a little full after my soup and yogurt, so I decided to hold off and have it for a snack later. I normally don't do a lot of canned fruit, but I had a coupon for this product and thought I would give it a try. It was a mixture of mango and chia seeds, which are a great source of omega-3. It was a burst of fruitiness to get me through the rest of the work day!
For dinner, Queen of the Leftovers strikes again! After a bit of a longer of a commute that normal, I got home later than I usually do, and therefore was hungry. The night before, I intended to make some enchiladas, however due to a tortilla malfunction, I had to turn it into enchilada lasagna, made up of ground turkey, chili beans, seasonings, layered with whole wheat tortillas and topped with Monterey jack cheese and enchilada sauce. I had a square of that with a little helping of sour cream on top.  I washed it down with a glass of water. After doing some stuff around the house and yardwork outside, I was feeling a bit hungry, so I reached for a small bag of popcorn with light sea salt and green tea. Its low calorie and high in fiber. You can see from the picture, it's so yummy even Max wants a taste!
You Might Also Enjoy