Why Your Weight Seems to Go Up and Down No Matter What You Do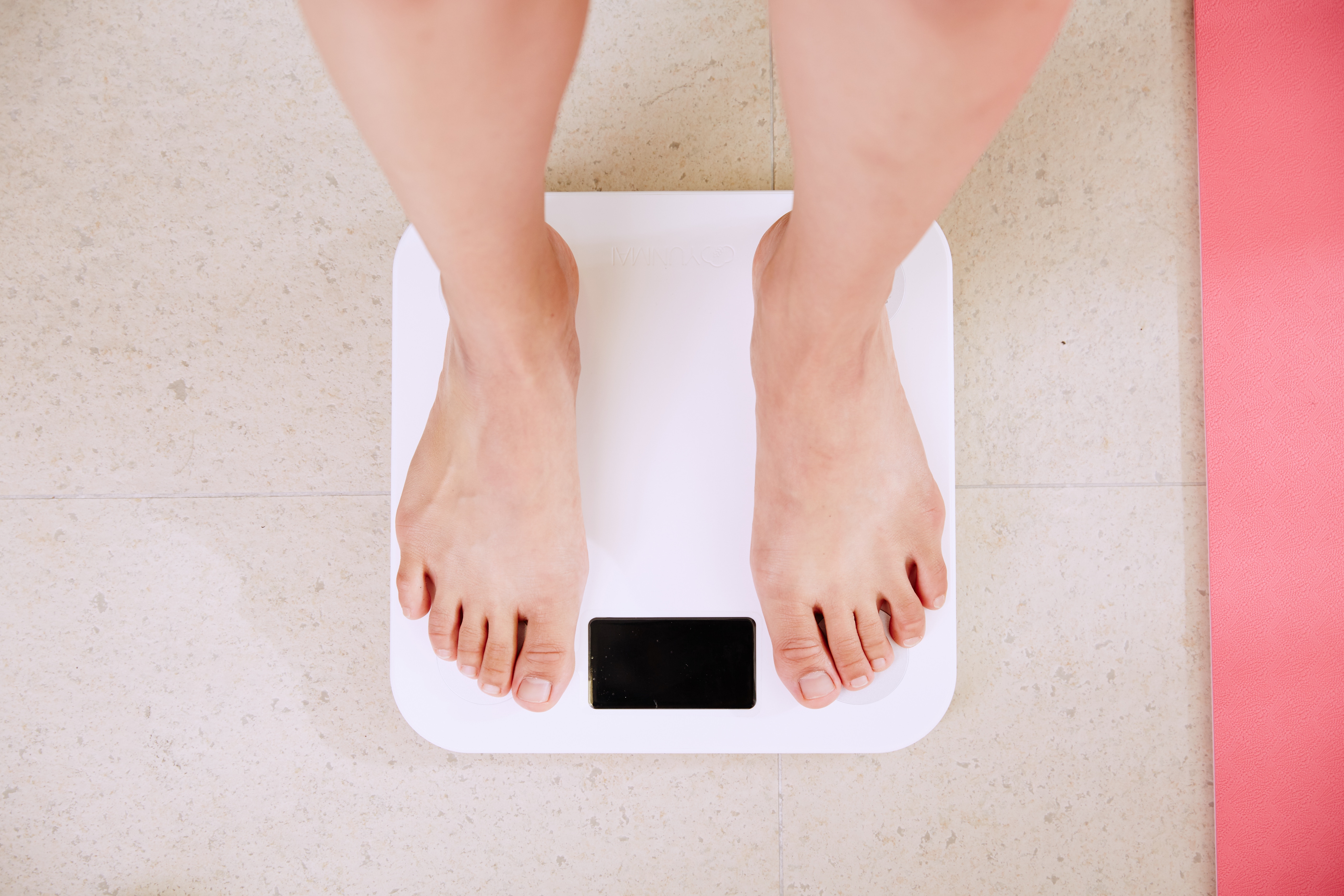 I hear this from clients all the time: "It doesn't matter what I do! My weight goes up and down and up and down. I'll lose a few pounds and then I'll gain two back and I just want to give up."
Ahhh the scale…a mean mistress. It's a rare person who has not noticed that, whether trying to lose weight or not, his or her number on the scale tends to fluctuate. This is true for just about everyone for a variety of reasons.
If you've been tracking my goal-getting journey, you know that one of my goals was to get back to my normal body weight by losing 7 lbs. If you haven't been following along, well…now you know. So the first 4-5 came off in the first month or so. After that, things slowed to a screeching halt and began climbing…1 pound, 2 pounds, 3 pounds. I was sticking with my nutrition and workout goals for the most part, but it was still climbing.
How could this be, you ask? It's actually very common. Read on and I'll run you through a few reasons that your weight is not the "end all, be all"…or even necessarily a good way to measure your overall progress. It's part of the equation, and it is certainly linked to health outcomes, but it does not warrant or deserve the intense focus we tend to put on it. Here are 7 reasons your weight may fluctuate that have nothing to do with eating too much or not exercising enough:
Time of the day – Believe it or not our weight changes, sometimes pretty significantly, throughout the day. During the day we retain some of the water we consume, so we tend to weigh the most at the end of the day and the least first thing in the morning after we've used the bathroom. I have a pretty small frame and depending on the day I've clocked as high as a 4-5 pound difference from morning to evening.


Hydration – Along the same lines as #1, the amount of water we drink during the day can affect our weights. On a day where we are sweating heavily or not drinking enough fluids, we will weigh less than a day where we are adequately hydrated.
Bathroom/food status – Gross but true. If you haven't had a bowel movement in 1-2 days, your bowels may contain at least a couple of pounds (sometimes more!) of fecal material. Your bladder can hold anywhere from .5 to 1.5 lbs of urine as well.
Menstruation – Sorry ladies, but it can't be helped. Most women retain at least an extra pound or two of fluid during menstruation.
Fluid retention/swelling – This can be caused by many different things, but in healthy people it is most commonly due to high sodium intakes. Have you ever noticed that your pants don't fit quite right or your fingers look like sausages the day after the Superbowl party? Sodium and water are friends, so when we eat a lot of sodium, our body hangs on to extra water for a day or two.


Stress – In general, stress tends to make our bodies want to gain fat. Stress management is a very key component of overall health.
Muscle/fat – Most of us have heard the adage, "Muscle weighs more than fat." It's true, and it's also true that if you start a new exercise program you will be gaining some muscle as you lose fat so progress can be tricky to track. Be careful with this one though, because you usually won't be gaining enough muscle to really affect your weight for the first month or two of a new exercise program.
For these reasons, I try to encourage (and beg and plead) clients to focus on their overall health and fitness, their habits, and how they feel, as well as assessments like weight, circumference, or body fat to assess their overall progress. Given the things listed above, going up a pound or a few every so often is normal and should be expected. Don't let it stress you out or discourage you! If you feel like you're likely to quit on improving your health if the scale goes up, I have a strong recommendation for you – don't get on the scale!
You Might Also Like
Eating to Support Healthy Gut Bacteria