Trim Healthy Mama Week 2 Review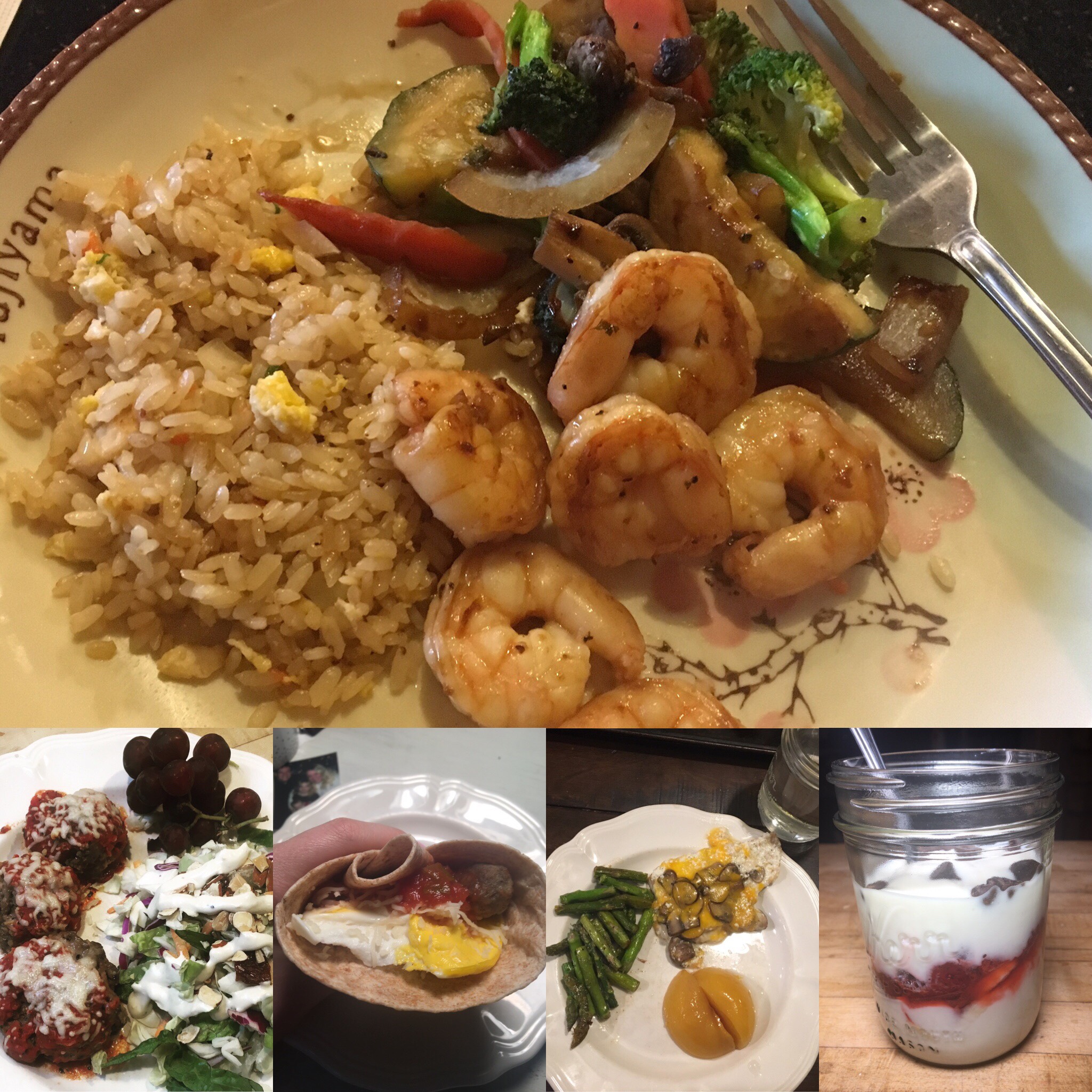 My second week of Trim Healthy Mama has passed and I have to say – it went much better for me than last week! I found my groove, took a break from baked goods, and added in S Helpers to prevent low blood sugar. These changes made quite a difference in my quality of life.
The Good
I picked up a few useful products this past week – Laughing Cow light cheese
, low carb wraps, and sprouted whole grain bread – that made my life a bit easier. The cheese helped me create more savory E options, which I had struggled with during my first week on THM.
I'm not ready to say that I give up on baked goods (in fact I have an almond flour pumpkin chip cake in the oven – fingers crossed it's edible!), but I kind of took a break from them this week. I really wanted to take this three weeks to play around with grain-free baking since THM requires it and doing so would bulk up my recipe stash for my gluten-free clients, but boy my first week was a crash and burn. I tried a couple of different almond flour recipes that were really flavorless, but powered through eating them so I wouldn't waste anything. That burned me out a bit on my almond flour experimentation and I didn't even bother with any of that this week. It made life easier. I have picked out a couple of recipes for my last week (armed with tips from THM groups online!) and I'm ready to try again.
S Helpers make me happy! I felt much better and had no trouble returning to my usual workouts and energy levels once I got just a teensy bit of carb added in to my S meals. It also made me much happier just to have the option to pick even one little portion of carb. Yay for fewer restrictions!
A very unexpected plus was that after I bought all of the expensive extra stuff the first week, my grocery budget actually dipped down a few dollars this week. Who would have thought?
The Bad
Honestly, with the exception of still needing a solution to grain-free baked bads (I've had more bads than goods so far), I don't have too many problems to report this week. I have found ways to navigate some of the roadblocks I met with in the beginning, and my S Helpers have fixed my hanger (as in hangry) problem. Can't complain too much!
The Numbers
S meals were definitely the favorite this week because S meal + S helper = happy me. I ended up eating mostly E snacks in between to keep my energy up. My average carb intake was higher (but not by a lot) and my average fat intake was lower (but not by a lot). Interestingly, I was much more satisfied with fewer calories this way, because carbohydrates addressed my blood sugar fluctuations and are also lower in calories than fat.
I gained half a pound this week – could be nothing at all (weight fluctuation is totally normal and need not cause frustration) – but it's most likely increased water retention in my muscles. Last week I know my glycogen (glucose storage in my muscles) was low because my blood sugar was running low and I could feel the drag in my workouts. Glycogen and water are friends, so whenever your glycogen stores are full the glucose is often hanging out with a bit of water. Since my waist circumference decreased and body fat stayed the same this week, that is the most likely cause of that change.
| | | | | |
| --- | --- | --- | --- | --- |
| | Recommendation | Week #1 | Week #2 | Week #3 |
| Weight change | | -1 lb |  +.6 lb | |
| Body fat change | | -.3% | 0% | |
| Waist change | | -1″ | -.5″ | |
| Avg. daily calorie intake | 1700 | 1679 |  1557 | |
| Avg. daily carb intake | 170-200 g | 120 g |  135 g | |
| Avg. daily protein intake | 65-80 g | 97 g |  90 g | |
| Avg. daily fat intake | 40-55 g |  81 g |  75 g | |
| Breakdown of meal types | | 10 S meals, 10 E meals |  13 S meals, 8 E meals (and lots of E snacks) | |
| # of cheats | 0 | 3 (1 intentional, 2 accidental cheats with non-whole grain sourdough bread) | 1 (intentional Valentine's date cheat at Fujiyama's – yummy!) | |
|  Grocery Cost |  $100 (normal weekly grocery budget) |  $125 |  $92 (yippee!) | |
What I learned
Protein is key for satisfaction (especially with E meals) – Do any of you ever know something, then for some reason knowing doesn't help you actually put that knowledge into practice? No? Just me? Okay. See, I know very well that protein is satisfying, but I was really reminded of that when I ate an E meal without a sufficient amount of protein. My stomach was a-rumblin' much sooner. This is exacerbated on Trim Healthy Mama because fat is also a satisfier, but E meals are low fat, so ya gotta have that protein.
For me, the "personal choice" products from the book are necessary – In the Trim Healthy Mama Plan book, the authors provide options for products that can make your life easier. They acknowledge that some food purists (those who like to make ev-er-y-thing from scratch) are not likely to want to use the products. I am not one of those people. I like to cook and I make a lot of things from scratch, but I'm in the middle of that spectrum, baby. I'll take efficiency if you've got it.
I prefer to have my meals be S (with S helpers) and snacks be E – This combo keeps my energy (in the form of blood sugar) up throughout the day and gives me the greatest feeling of flexibility and choice.
Use spices, extracts, and zests to improve the flavor of baked goods – This was a tip from the THM boards I surveyed for help with my baked goods. I haven't had the chance to test it yet but I'll let you know after I pull that pumpkin cake out and sample it!
Disclaimer: This is not a sponsored post and I have no affiliation with the producers or manufacturers of this product; however, as an Amazon Associate, I receive compensation for any purchases of products through the links on this post.