Strawberry Rhubarb Cookies
What's a better pairing than strawberry and rhubarb? Sweet and tangy, and both ready at the same hopeful time of year – Spring! This seasonal recipe helps you celebrate the return to sun and fresh produce in delightful, high-fiber cookies. An extra bonus? They're egg-free and very easy to modify to vegan with your favorite plant-based milk!
Here I place my pledge to never make you scroll through 24 paragraphs about what I did the day I first made this recipe, 14 variations on the recipe, and how this was my grandmother's sister's favorite food. You will find the recipe directly below. Happy cooking!
Strawberry Rhubarb Cookies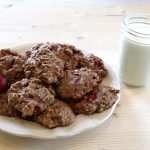 Quick, easy, and egg-free, these delicious cookies will celebrate the flavors of Spring and can be vegan with a swap to your favorite plant-based milk!
1 cup 1 c. whole wheat flour
3/4 cup oats
2/3 cup raw sugar
1/2 tsp baking powder
1/2 tsp baking soda
1 1/4 tsp cinnamon
1 Tbsp chia seeds
1/4 cup avocado oil
1/2 cup fat free milk (substitute plant milk for a vegan recipe)
1 tsp vanilla extract
1/2 cup strawberries (stemmed and diced)
1/2 cup rhubarb (sliced into 1/4" slices)
Preheat oven to 350° F (175° C).

In a large bowl, mix flour, oats, baking soda, baking powder, cinnamon, and chia seeds until well blended.

In a separate bowl, combine oil, milk, and vanilla extract.

Stir wet ingredients in to dry ingredients and mix well.

Fold in diced strawberries and sliced rhubarb.

Place in 2 Tbsp dollops on a cookie sheet 2" apart. Bake for 22-25 mins or until center is no longer gooey.
Each cookie contains 15.7 g carbohydrate (7% DV), 1.7 g protein (2% DV), 3.6 g fat (7% DV), 1.5 g fiber (6% DV), .4 g saturated fat (0% DV), 8.1 g sugar, and .1 g omega 3 (12% DV).