Boy, is it cold outside! Cold outside often coincides with colds inside – winter has long been regarded as cold and flu season and with recent events, boosting your immunity can be a top priority! No one wants to be out sick from celebrations and responsibilities all winter long. Strengthening your immune system and fighting bacteria and viruses can be aided with certain important nutrients included in this cinnamon orange smoothie recipe:
Probiotics
Probiotic foods contain the friendly, helpful bacteria that can colonize our intestines to help digest our food, keep us regular, and defend us against harmful bacterial infections. In the case of this smoothie, the yogurt will provide a dose of probiotics.
Prebiotics
While probiotics are the foods that contain the helpful bacteria, prebiotics are the foods the bacteria love to eat! Orange juice, especially including pulp, contains these prebiotic fibers that can make our helpful gut bacteria thrive.
Vitamin C
Long recognized as one of the key nutrients supporting immunity, vitamin C provides antioxidant benefits and helps to promote the production of your body's own natural antibodies.
Zinc & Vitamin D
Both of these powerful nutrients are associated with lower infection rates, and shorter infections that are less severe. The also can slow viral growth and
Lactoferrin
Found in milk and yogurt, this compound boosts your immunity by preventing viral entry into your cells.
Propolis
This compound, found in honey, has anti-inflammatory and antimicrobial properties, as well as promoting antibody immune cell production.
The foods in this immune-boosting winter smoothie bring all these nutrients together to support your immune system's function throughout the cold and flu season. The smoothie tastes like chai-spiced oranges and is the perfect complement to your breakfast or as a snack during the day. To make this smoothie a meal, add a frozen banana and a scoop of your favorite plain or vanilla protein powder.
Immune-Boosting Winter Smoothie Recipe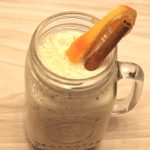 This cozy, spiced smoothie contains ingredients high in vitamin C, zinc, selenium, probiotics, and other phytonutrients that slow bacterial and viral growth, reduce inflammation, and promote the production of immunity cells. Let this cozy drink support your immune system all through the winter! Make it a meal by adding 1/2 a frozen banana and a scoop of your favorite protein powder.
1/2 cup 1% milk (fortified with vitamin D)
1/2 cup orange juice ((juice of 2 oranges))
1/2 cup plain nonfat Greek yogurt
2-3 tsp orange zest (dried or fresh (zest of 2 oranges))
5 ice cubes
1 1/2 tsp honey
1/2 tsp dried ginger
1/4 tsp basil
1/4 tsp turmeric
1/2 tsp cinnamon
1/4 tsp ground clove
Place all ingredients in blender.

Blend until smooth and enjoy!
Tips
This smoothie is a great snack or used as a daily supplement. You can make it a meal by adding 1 frozen banana and 1 scoop of your favorite protein powder.
If you make this smoothie regularly, measuring and adding all of the spices can be tedious! To expedite the process, mix 5 tsp each of dried ginger and cinnamon, as well as 2 1/2 tsp each of dried basil, turmeric, and ground clove in advance. For each smoothie, add 1 3/4 tsp of the spice mixture to the remaining ingredients. This mix is enough to make 10 smoothies.
Nutrition facts: 201 calories, 29 g carbohydrate, 17.4 g protein, 2 g fat, 64% RDA vitamin C, 29% RDA selenium, 10% RDA vitamin D, 16% RDA zinc.
Breakfast, Drinks
smoothie
References