Bonus Post: On-the-trail Nutrition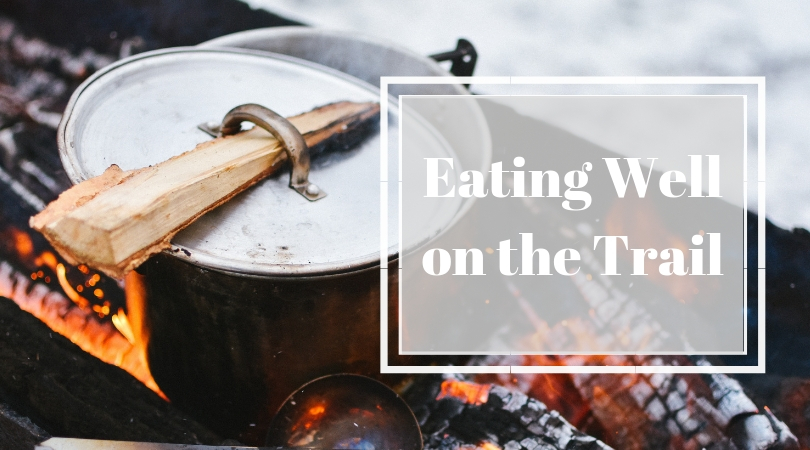 To round out this series on fitness for backpacking, I thought I would offer you a little bonus post on nutrition for the trail.
Good choices for trail foods are:
lightweight
do not require refrigeration
are nutrient dense
may or may not require cooking – while either can work if you bring a stove, this is a factor to consider!
Some of the parameters you might look for in your day-to-day food might be a bit different when hiking or backpacking. Your needs for calories, carbohydrates, and sodium are higher when you are active (especially if you're carrying a pack). Don't worry if some of the foods you eat are higher in these nutrients than what you normally eat. Here is a list of ideas for meals and snacks while hiking or backpacking:
Breakfast
Oatmeal – Portion oatmeal, dried fruits, protein powder, cinnamon, and brown sugar into individual packets or zipper plastic bags.
Breakfast bars – Homemade or store-bought bars that contain whole-grain carbohydrates and protein can be great options. Oats, nuts, seeds, honey, and dried fruits are all good potential ingredients. Here is a recipe for homemade breakfast bars that I've made before and enjoyed!
Instant Breakfast Packets – While these are probably not sufficient by themselves to prep you for a day of hiking, you can mix these packets into your oatmeal, coffee, or water for some added carbohydrate and protein.
Lunch
Wraps – Whole-grain tortillas with peanut butter and a banana or a pouch of chicken with spinach are easy to whip out for a quick lunch break.
Hummus "plate" – Depending on how long you're hiking, you can sometimes get away with some crunchier veggies (carrots, broccoli, cauliflower) in your bag for a day or two. Toss in some pita bread and a container of hummus and you've got a nutritious and delicious no-cook meal.
Dinner
Pasta- Particularly if you've hiked all day, do not fear the carbohydrates! Pouches of pasta sides are convenient and easily cooked with a camp stove. Add a packet of chicken or tuna or some slices of summer sausage for protein, and toss in some dehydrated veggies.
Beans and rice – Find a mix of rice and beans to which you can add some dry ranch dressing or onion soup mix and some dehydrated veggies. Boil it up!
Freeze-dried backpacking meals – These guys can be super-light and very convenient, but sometimes expensive. Watch to make sure they have the right amount of calories, carbohydrates, and protein for you after a long day on the trail. Unless you've been sweating a lot throughout the day, aim to keep the sodium under 40% DV.
Snacks
Dried fruits – These make excellent snacks, loaded with carbohydrates for energy and are quite light with all of the water dehydrated from them. Try dried peaches, strawberries, kiwis, or bananas.
Trail mix – Sorry to state the obvious, but this high-calorie, high nutrient density snack is really in its element in the out-of-doors.
Harvest Snaps – These crunchy puffed snacks made from peas, lentils, and other legumes have carbohydrate (important when hiking), protein, and a decent amount of fiber. Plus they are very light!
Whole grain crackers – Light and nutritious, these help provide necessary fiber and energy.
Jerky – Buy it or marinate and dehydrate some yourself.
Treats – Pack a little something to treat yourself after a long day of hoofing it! Choose individual packages of a favorite cookie or candy to enjoy around the campfire.
You Might Also Like:
What to do When Your Healthy Plan Falls Through
Top 5 Tips for a Quick Healthy Breakfast
How to Meal Plan on a Budget (step-by-step walkthrough)