Save Time with 5 Healthy Convenience Foods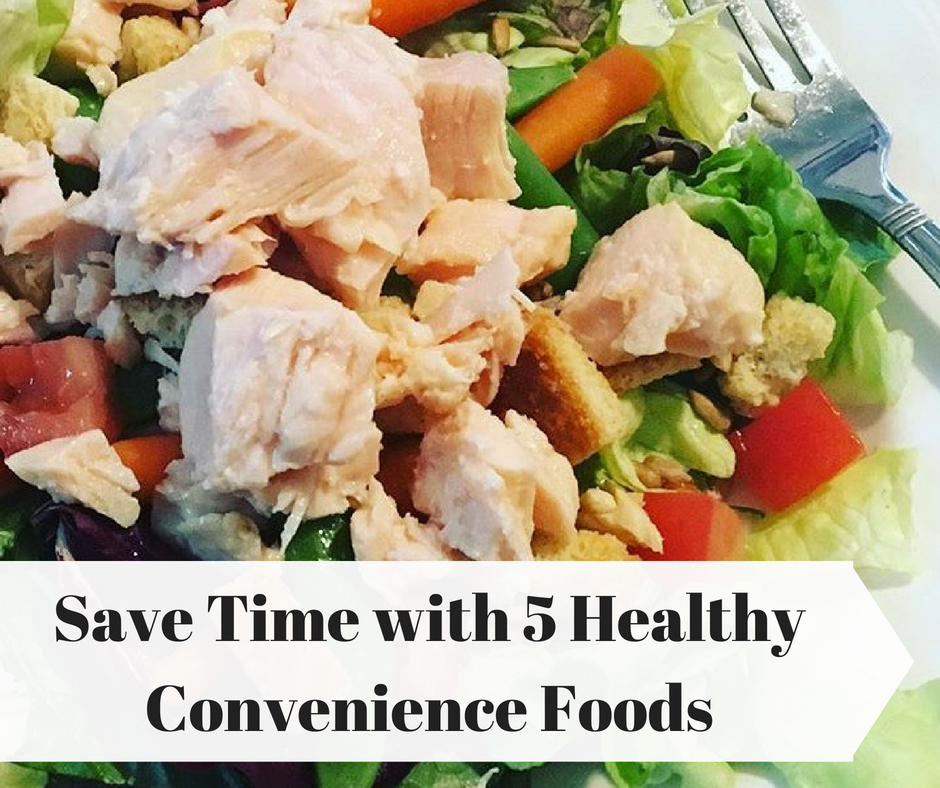 When it comes to eating well, the general school of thought is that you "should" make everything that goes down the hatch from scratch. Not necessarily! Convenience foods can have their place in a healthy lifestyle. Eating healthfully is a spectrum…a multi-faceted, complex, and very personalized spectrum.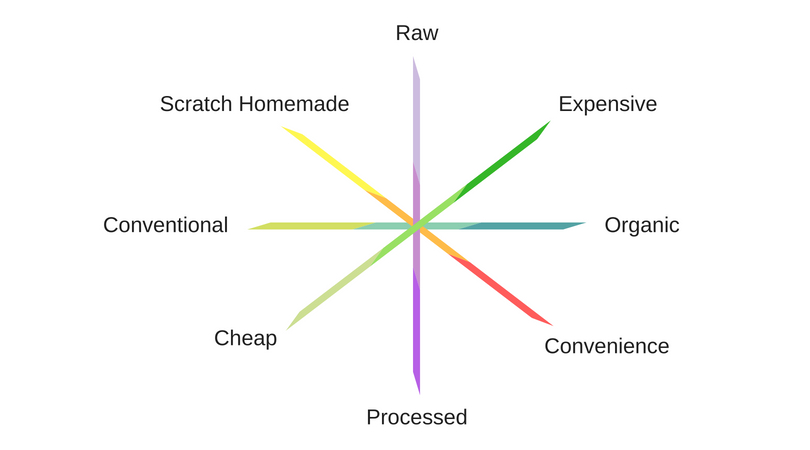 It's important that you find a place in the midst of all these factors that works with your lifestyle, not against it. If you want to eat entirely home-cooked-from-scratch but you're a single parent with 2 jobs and 3 kids, it might be a challenge to bake your own bread every week. It's important that your food choices fit well with your entire life, and remember that it's not all-or-nothing. Have you ever felt like it's not worth trying to be healthy if you can't "eat clean" 100% of the time? That's bogus. Sometimes you sacrifice a little nutrition for sanity. If the alternative is doing nothing, then doing something is definitely a better option!
Also remember that your place on the spectrum is a fluid concept that can change from month to month or even day to day. If life happens and pushes you towards processed for a few days or a week, it's not the end of the world! Hang in there and keep doing the best you can. When things calm down, you can head back in the direction you want to go.
In the meantime, whether you're very busy every day, extra-stressed for a few days, or your entire life is just a whirlwind, having healthy convenience options can make eating well much, much quicker. Here are a few of the most useful, versatile, and cost-effective convenience foods.
Prepped Proteins
Eating healthful proteins can be one of the most challenging areas to maintain when you're busy since many proteins need preparation (not to mention all those times you forget to take something out to thaw, darn it…that's not just me is it?). Prepared proteins can be just the ticket to ease this burden.
Into this category fall canned meats like chicken, tuna, and salmon, canned beans, and frozen pre-cooked meats or meat alternatives. Cans of meats or beans can be tossed in with a salad, eaten with some whole grain crackers, dumped onto nachos, or mixed in with pasta, rice, or a casserole. Since they are all already cooked, just dump and mix!
Bagged Salads
Several brands have begun making pre-made chopped salads complete with dried fruit, dressing, sliced nuts, or other toppings. Most have a delicious Asian sesame version, fruit-and-soft cheese version, and more. The flavors are delicious and these salads certainly are convenient. If you're unlikely to make a salad on your own or are tired of your lettuce getting slimy because you never get around to chopping it up, these can be a lifesaver! Use them as a side dish or top them with a prepared protein and add a piece of fruit for a complete meal.
Tomato Sauces
These versatile beauties are great to have around for any time you haven't had a chance to meal plan. With a few spices, they can quickly turn into a pasta sauce, chili base, or pizza sauce on a pita or tortilla pizza. Try to find a "No Salt Added" version to reduce the added sodium – then you have control over the salt that is added.
Check out my recipe for a 5-minute Heart Healthy Pizza/Pasta sauce using canned tomato sauce! 
Frozen Vegetables
So many of my clients tell me that their biggest challenge with eating healthy food is that preparing vegetables can be so time-consuming! Washing, peeling, chopping, and cooking vegetables is just enough work that it discourages them from actually eating vegetables! For days when you didn't get to your food prep and you just don't have the time to take those veggies from whole to roasted, a bag of frozen veggies can be such a lifesaver!
These come individually (think frozen broccoli, carrots, or peas) or in pre-made combos like stir-fry blends, California blend (broccoli, cauliflower, carrots), and Normandy blend (zucchini, carrots, yellow squash, broccoli, and cauliflower). Keep a few of these in your freezer and have a veggie side dish in 2-3 minutes with no prep at all.
Quick Oats
When your morning doesn't allow for the process of simmering steel-cut oats, quick oats can get you a dose of whole grains in a flash. Microwave them with water for a minute or pour boiling water over them. Mix with some fresh fruit, a scoop of peanut butter, and a couple teaspoons of brown sugar or stevia and you are good to go! Homemade instant oats contain less sugar, more fiber, and more nutrition than the instant packets and take the same amount of time.
What are the go-to convenience foods that help you maintain a healthy lifestyle?
Related Articles
How to Meal Plan to Save Time and Money (with FREE printable meal planning template)
One Tip and One Product to Make Living Well Quicker and Easier
Ready to Get Healthy? 5 Simple Steps to Set Yourself Up for Success