Eating Out on a Liver-Friendly Diet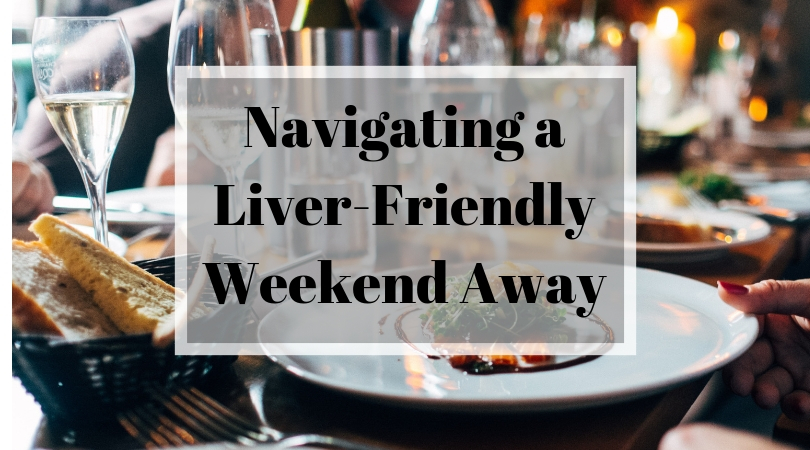 This past weekend I had the opportunity to try out a weekend of celebration, liver-friendly style. Every year in January we go with some friends for a weekend away, this time to McMenamin's Grand Lodge in Forest Grove, OR. Typically, this weekend consists of delicious food, a few cocktails and ciders, and a lot of board games. We always have a great time. Since I'm on a liver-friendly diet this year, I decided to do the best I could to navigate my nutritional recommendations while still having a great time with my husband and friends.
Whether it's a whole weekend away or a single meal, my primary strategies for meeting dietary recommendations while eating out: plan and prioritize.
Planning Ahead
Check out the place you're going to (if you haven't been there before) and find out what kinds of food are going to be available. We have been to the Grand Lodge many times, so I already know that the lunch and dinner fare is primarily pub-type food (with amazing tater tots). Veggies, protein, grains, and dairy will be no problem, but fruits will be lacking. I'll have to be careful with fat and sodium, for sure.
Also, I know that there is an amazing chocolate milkshake made with their Terminator Stout that I usually get that I won't be getting this time because it's loaded with saturated fat and sugar and contains alcohol.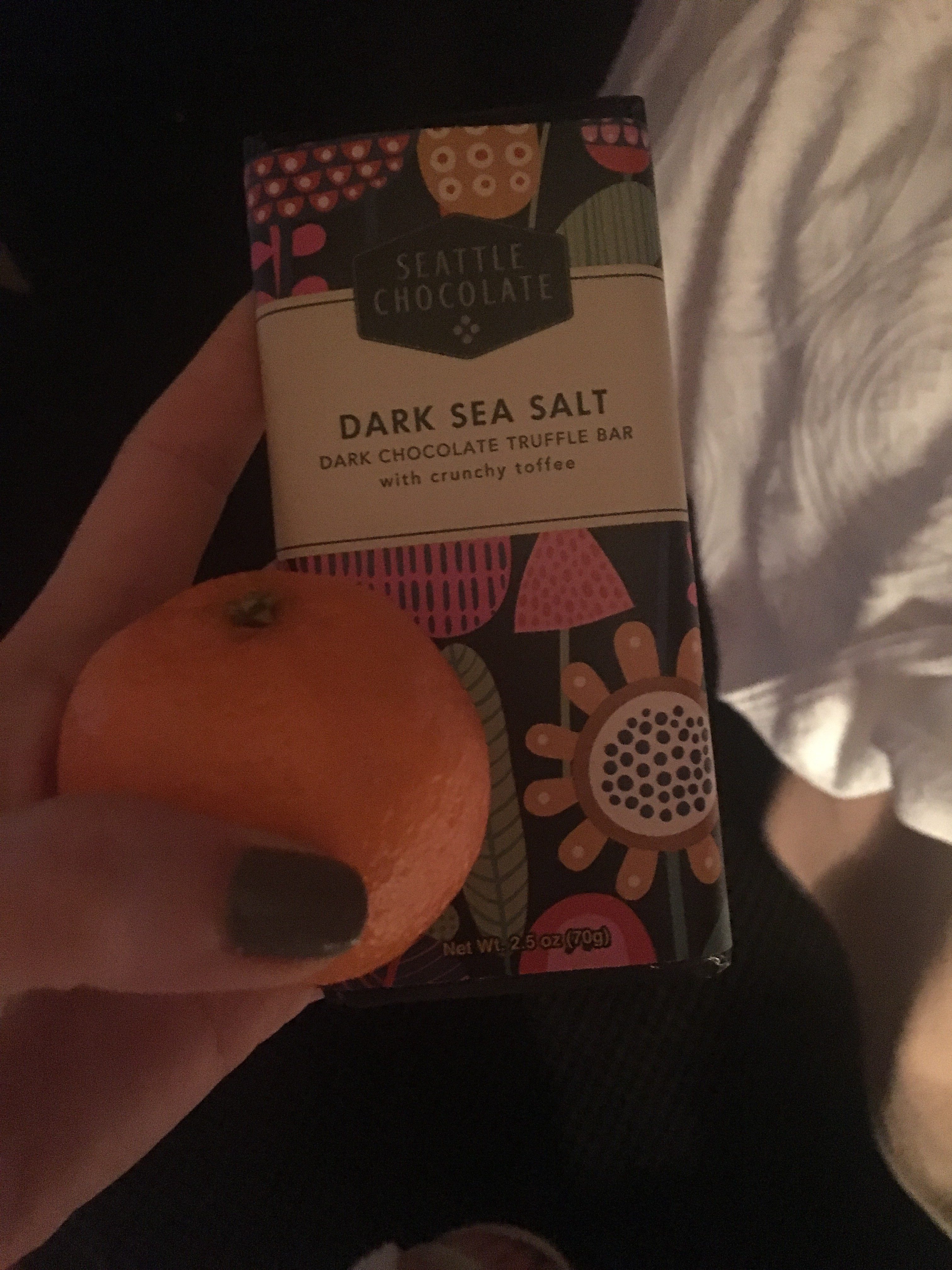 To address these two anticipated issues, I brought along some mandarin oranges and a dark chocolate bar. The chocolate bar contains some saturated fat and sugar, but it will be far better for lil' ol' liver than that Terminator Stout milkshake, and I'll still get some chocolate!
Prioritizing
Think about what menu item would most delight you to eat, whether it's an entree, a side, a dessert, you name it. Even if it's a bit high in sodium, fat, or sugar, get that thing. Enjoy it! Surround it with healthier options.
We headed out Friday afternoon and on the way down we decided to stop at a burger joint recommended to us by a friend. None of us had been to Smashburger before, but we decided to give it a go. After checking out the menu, I saw that they had some rosemary herb tater tots. I am a big tot fan, so that was going to be my priority. My main dish was going to have to be healthier. They had a black bean burger on a multigrain bun with avocado, and it sounded tasty!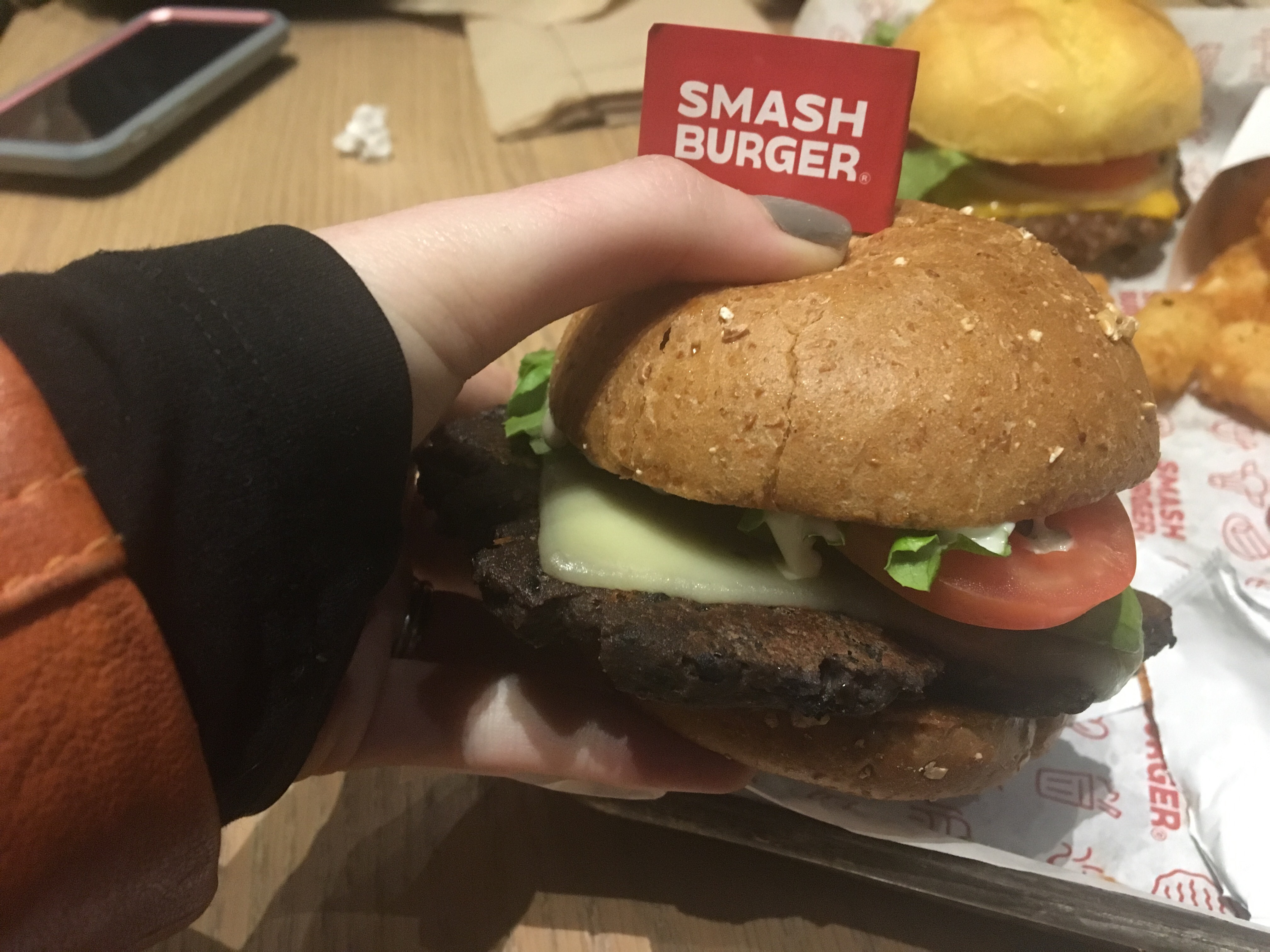 It was pretty dang good, but the tots were even better. I rounded it out with a water.
Later that evening, we went to soak in the hot tub. This is when I would usually end up getting a mojito, but since alcohol is a no-go on my liver-friendly diet, I asked for a seltzer water with a lime.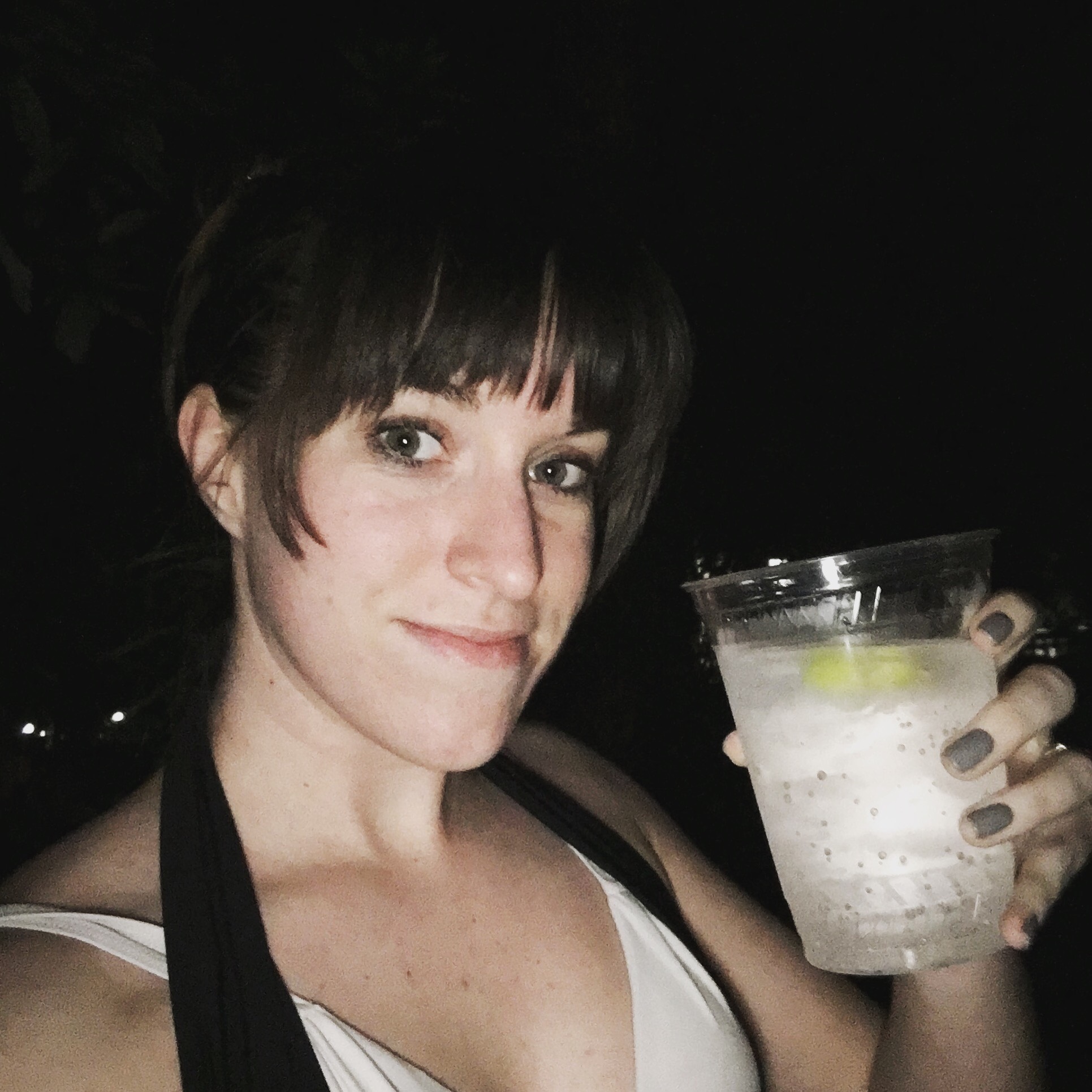 Was it as delicious as a mojito? No, but it was refreshing, tasty, and certainly more hydrating! Besides, I'm really out there to relax in the soaking pool, so mission accomplished.
After soaking we settled in for some board games and snacks. The Grand Lodge has some epic Cajun-spiced tater tots. If you remember from earlier, tots are definitely a priority for me. Those had to happen. We ordered some pretzel sticks with cheese sauce, but I only ate a couple of the pretzel sticks and avoided the cheese sauce. I would rather have tots!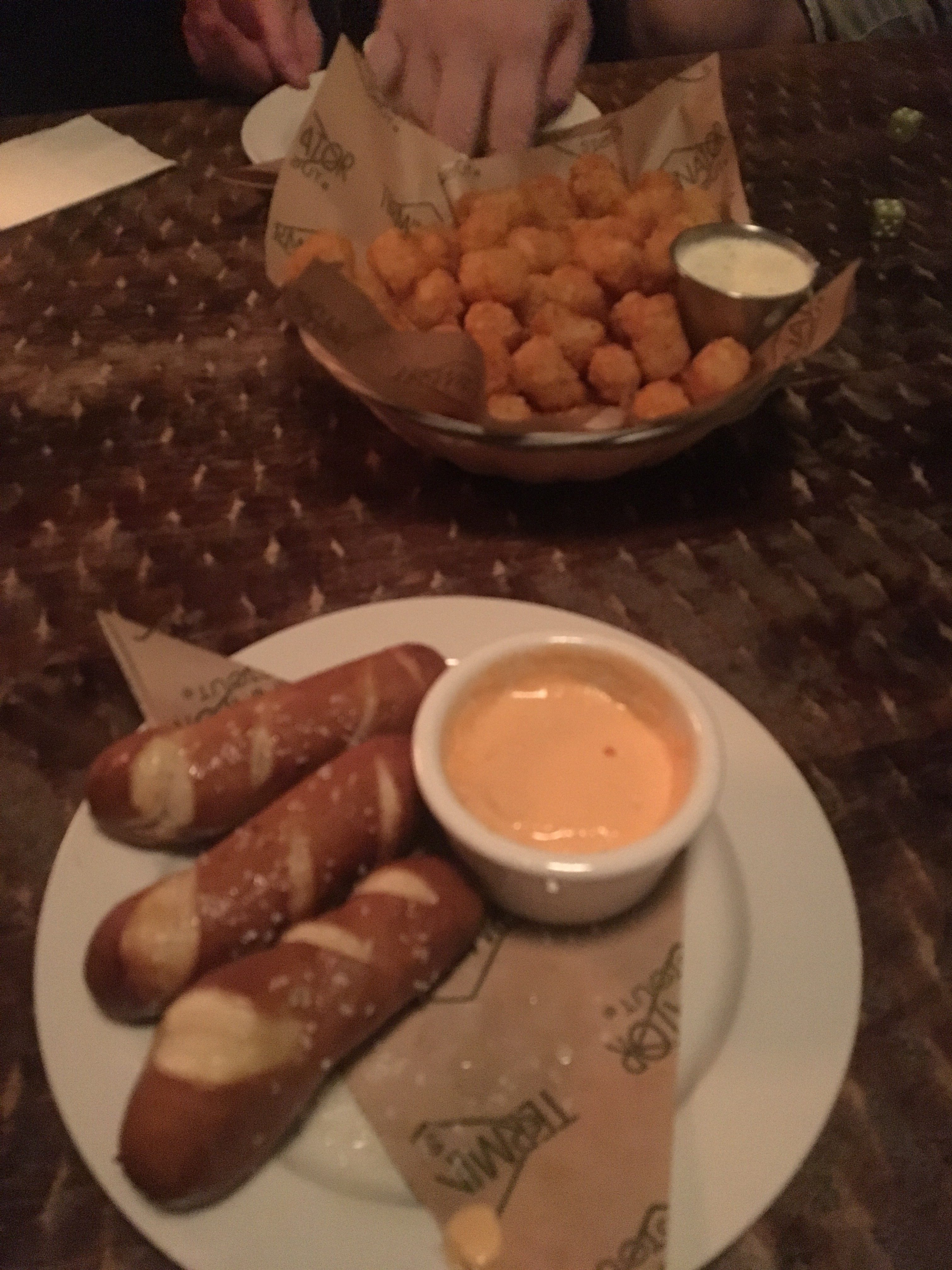 They were fantastic as always.
The next morning I was fortunate enough to eat one of my favorite dishes, and it just so happens to be liver-friendly! This salmon and red potato hash is made with veggies, anti-inflammatory salmon, and red potatoes. If you want to try it, check out this copycat recipe. My hubby's breakfast came with a fruit cup but he's not a melon fan, so he ate the rest and then I got some fruit too!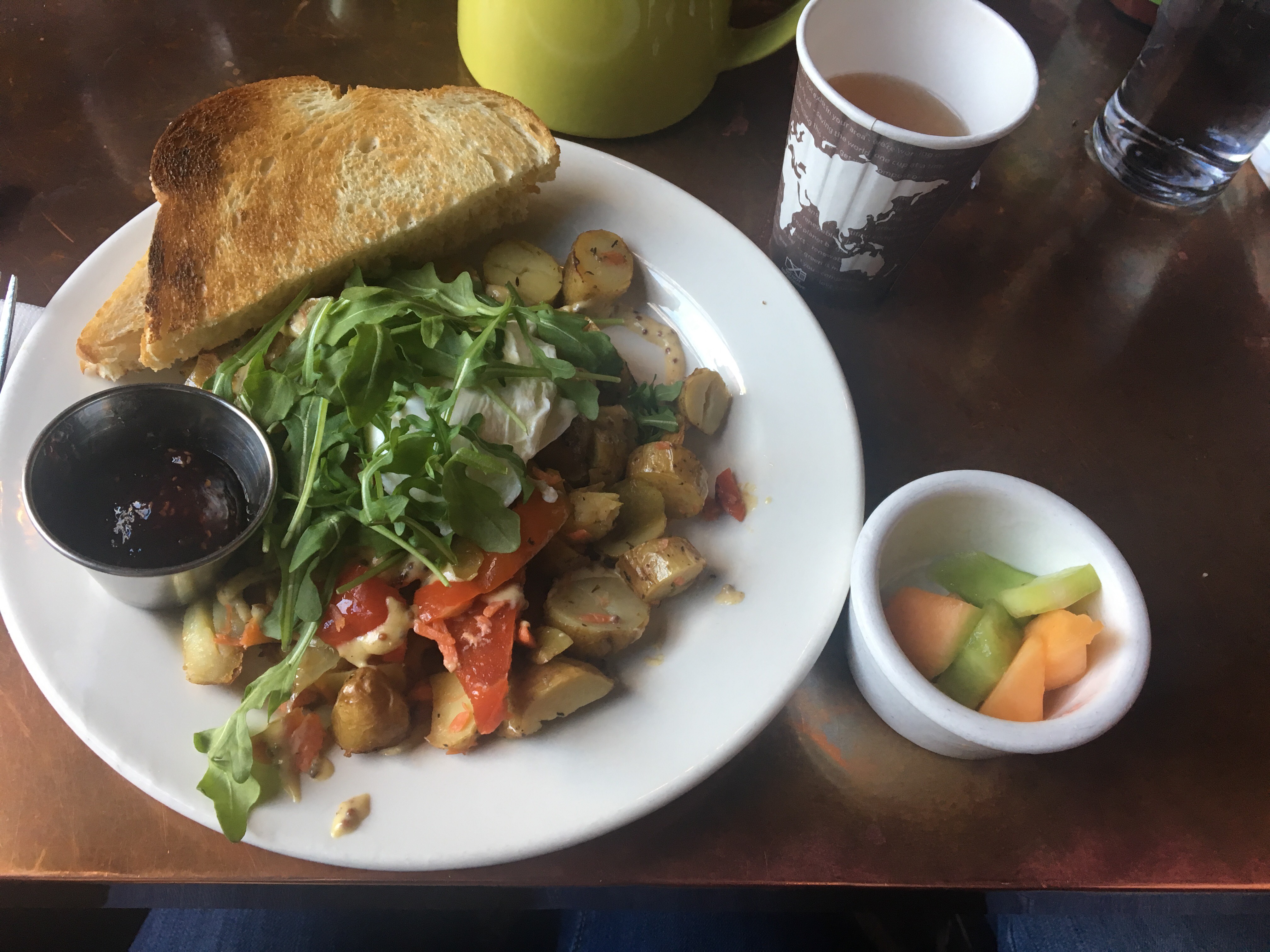 Breakfast did not disappoint.
That afternoon, my friend and I went to see Mary Poppins Returns. It was so well done! For the movie I would normally have chosen to order a hard cider. I wanted something sweeter than the lime water I had last night, so I ordered a seltzer water with lime juice and a half-shot of simple syrup. It had a couple grams of sugar, but it was a definite liver-friendly improvement.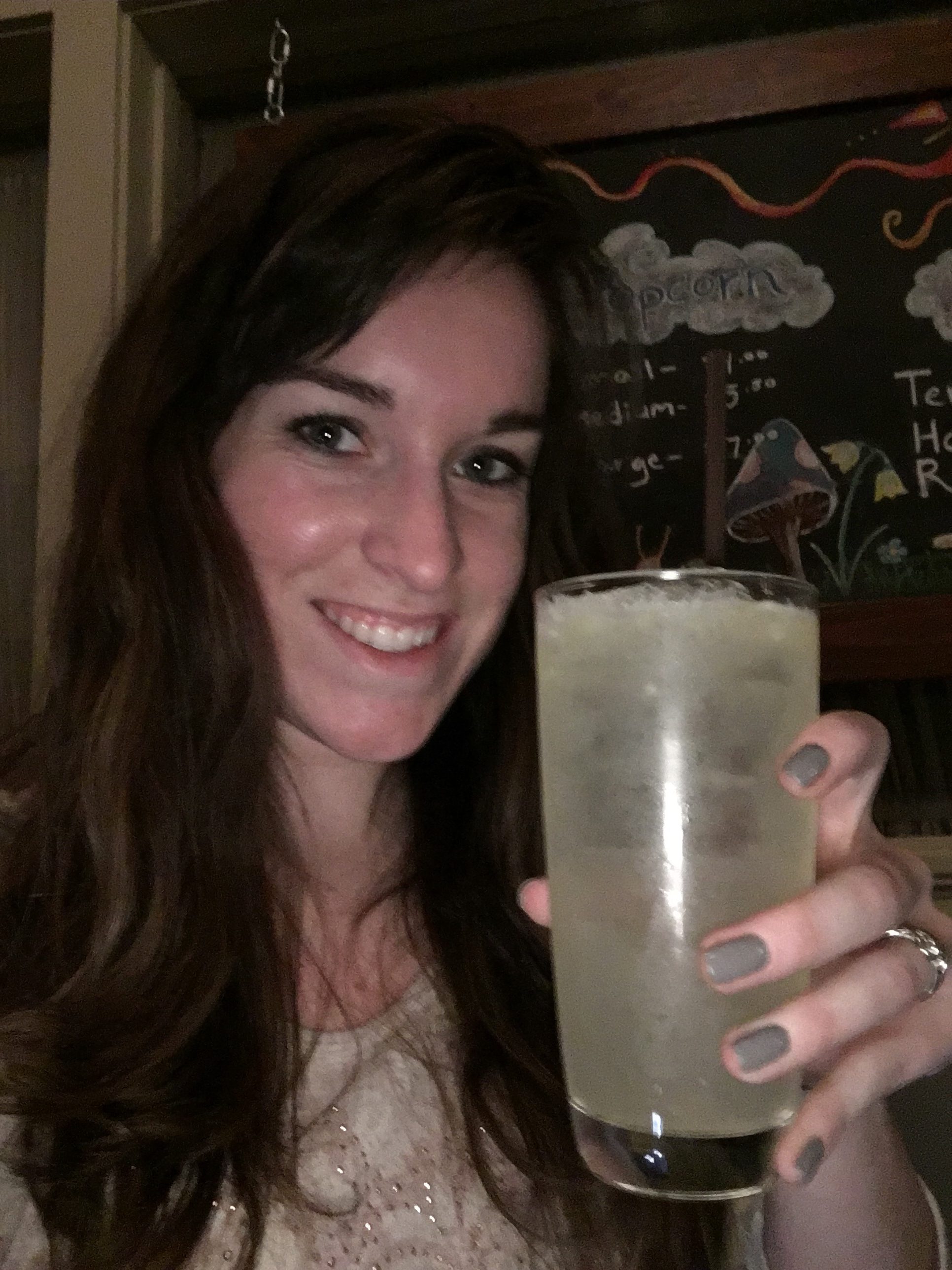 A side benefit of these "alternative" drinks is that the bartenders wouldn't even charge me for them since they were mostly water and a little bit of fruit juice. I spent a few dollars in tips instead of the $20-25ish I would have spent on my usual drinks throughout the weekend!
For a late lunch, we ended up at a Hawaiian fusion restaurant. Everything on the menu looked so good, but I had to go with chicken katsu curry. While it does contain veggies and lean meat, the meat is deep fried and the curry is loaded with sodium. This one may have been a little over the top, but the last time I ate katsu curry was in Japan and I about died from delicious, so I wasn't going to pass it up. It was supposed to come with macaroni salad, but I subbed that out for the house salad. The curry was the priority!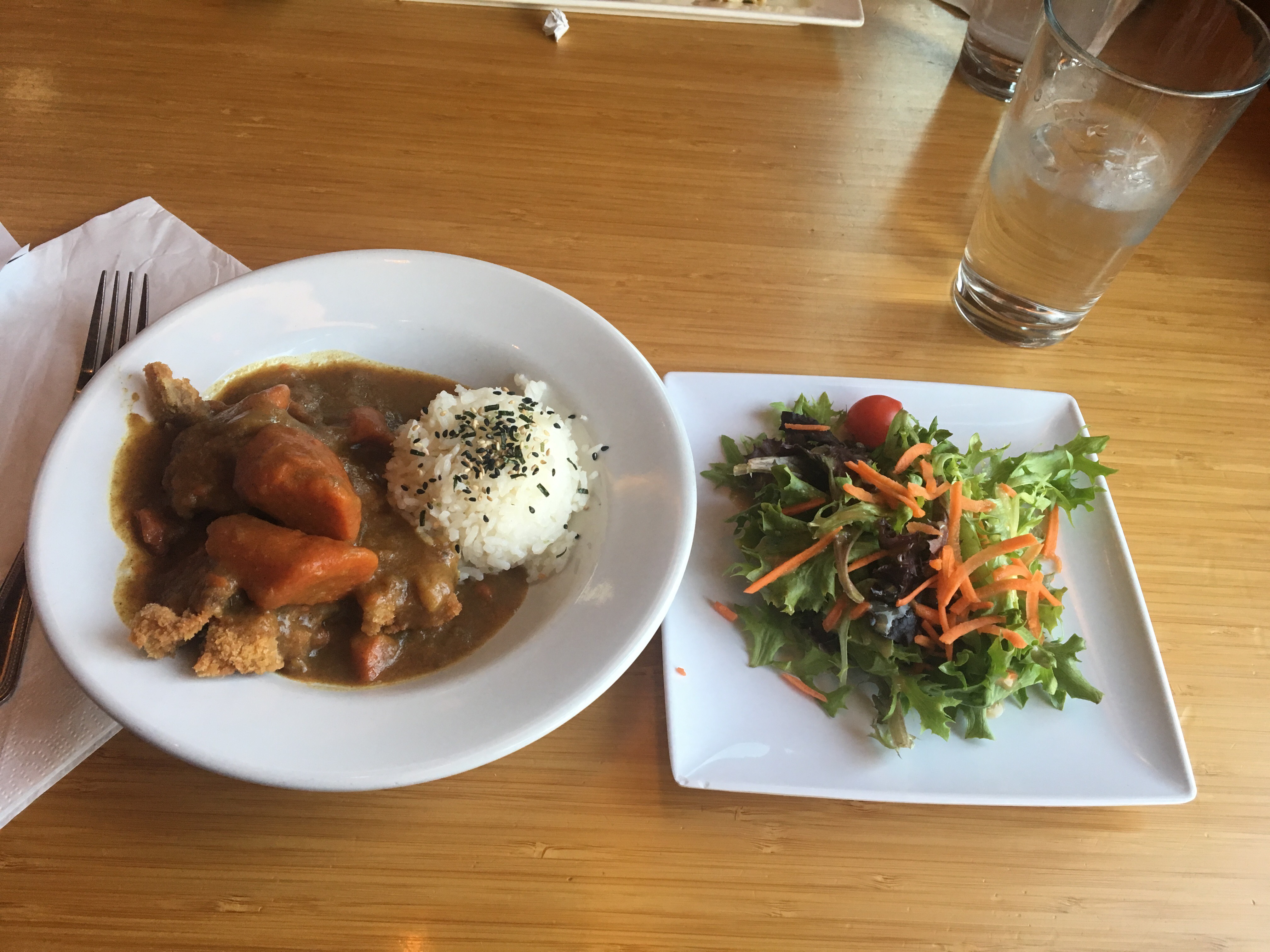 After lunch, we were going to settle in for some more board games and snacks. The crew stopped at the grocery store to buy some junk food. My oranges and chocolate bar came to the rescue so I was satisfied with only 2 cookies instead of…however many I would otherwise have eaten…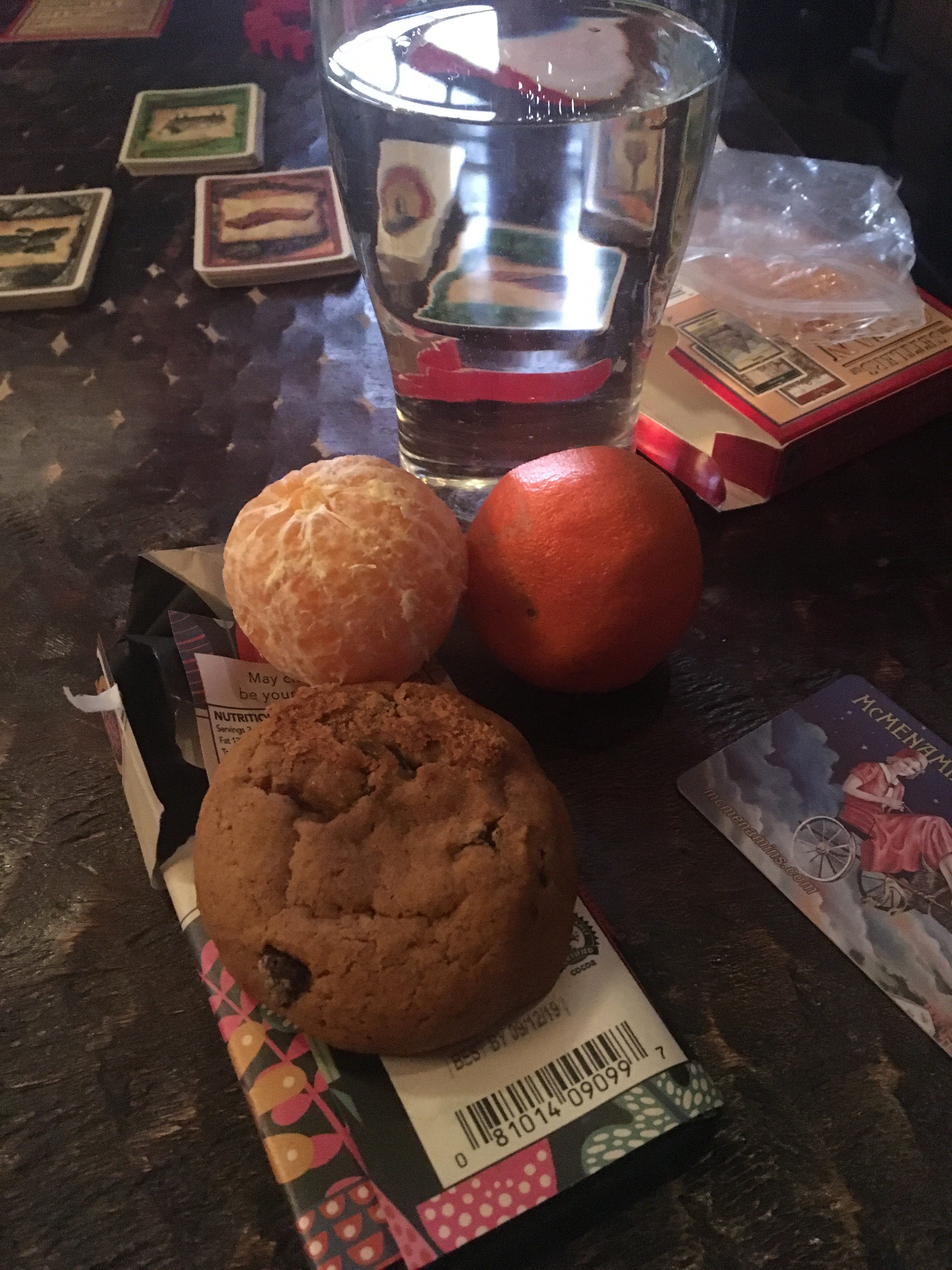 For our final breakfast, I had been itching to find out what the chef's "daily scone" was. I am Scottish, after all. I asked my server – it was caramel apple. Guys. I was definitely going to have that. Now, I realized that a caramel apple scone was basically breakfast dessert, so I needed some protein and ideally veggies to balance this sucker out. I ordered the veggie sausage on the side and got another cup of unappreciated melon from my husband. The whole thing was dee-licious.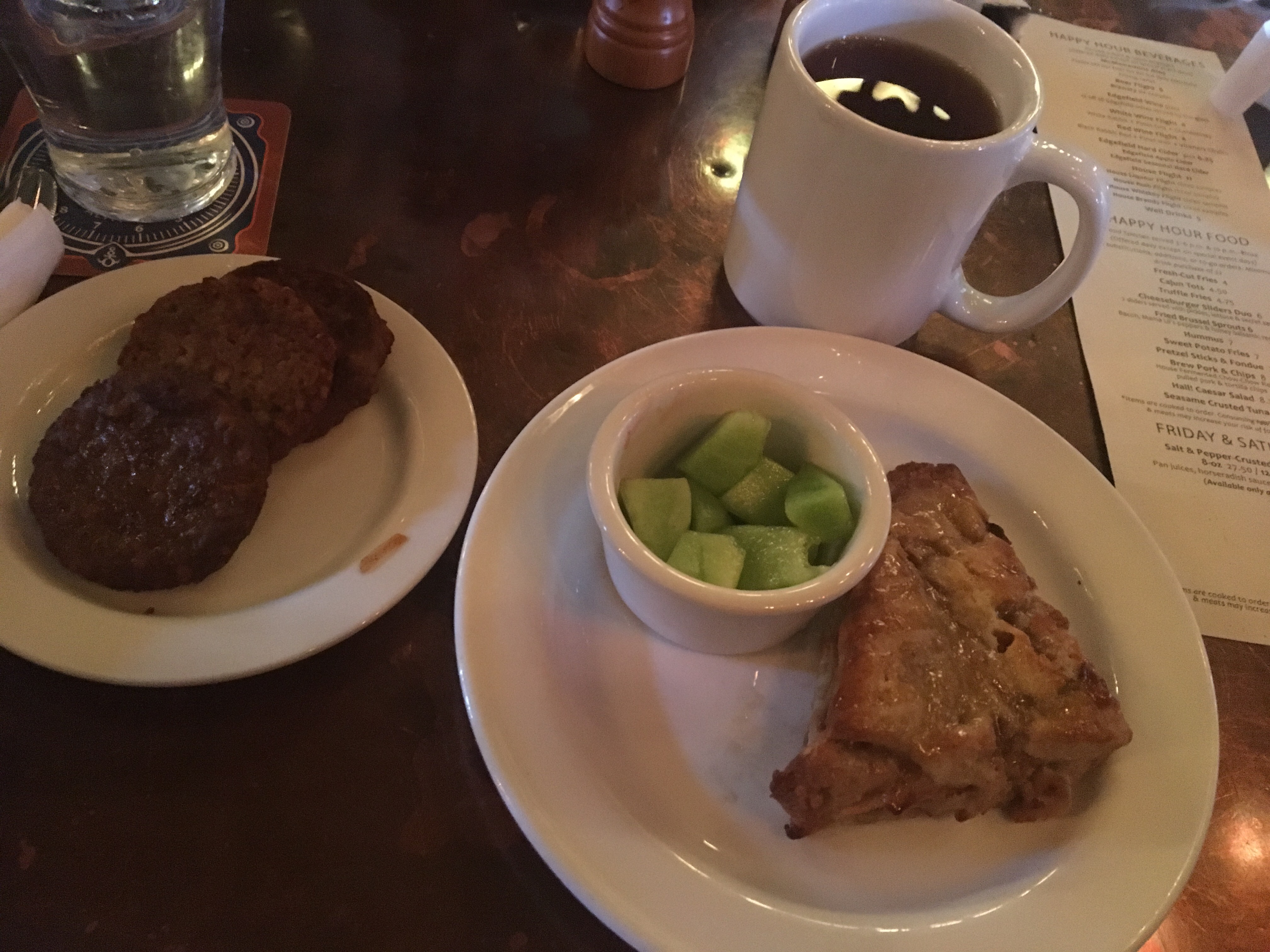 Then it was time to leave relaxation for the regularity of normal life. Sigh…it was such a great weekend. While the food I ate was certainly not as low in sodium, fat, or sugar as what I would eat at home, I feel great about the balance. When you're eating out, gauge your choices based on the foods that are your priorities. The tastiest and most wonderful should take center stage, backed up by a chorus line of nutritious extras. You'll enjoy yourself and feel great!
Related Articles
How to Make Healthy Changes that Actually Stick
Eating Out on an Anti-Inflammatory Diet
Why You Shouldn't Commit to a Diet this New Year (and what you should do instead)