Twice-Baked Cheddar Broccoli Potatoes
Twice-baked potatoes are one of the epitomes of comfort food in my mind. These fluffy potatoes could be a meal in themselves – they're loaded with protein, potassium, fiber, and of course, cheese and bacon. You'll make use of seasonal broccoli and be wrapped up in cheddar broccoli goodness in this hearty, filling Spring recipe. Follow it up with Strawberry Rhubarb cookies! Mmmm…
Here I place my pledge to never make you scroll through 24 paragraphs about what I did the day I first made this recipe, 14 variations on the recipe, and how this was my grandmother's sister's favorite food. You will find the recipe directly below. Happy cooking!
Twice-Baked Cheddar Broccoli Potatoes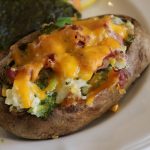 A simple twice-baked potato recipe to celebrate the melding of comfort foods and seasonal broccoli. These fluffy potatoes could be a meal in themselves – they are loaded with protein, fiber, and heart-healthy potassium. Enjoy
4 whole potatoes (medium)
2 Tbsp olive oil
1 head broccoli (medium)
1 cup cottage cheese (fat free)
4 slices cooked bacon (crumbled)
1 cup cheddar cheese (shredded)
5 spring onions (chopped)
salt and pepper (to taste)
Wash potatoes and pierce each potato a few times with a fork to release steam. Rub potatoes with a small amount of olive oil and sprinkle with salt.

Bake potatoes for 45 minutes. While potatoes are baking, bring a large pot of water to boil.

Cut broccoli into florets and steam or boil broccoli for 5-10 minutes or until tender when pierced with a fork.

Removing potatoes from oven with an oven mitt, carefully cut a slit in the top of each potato. Scoop out the cooked potato flesh and reserve in a bowl. Place empty potato skins on a baking sheet.

Combine potato flesh, cottage cheese, 3/4 c. cheddar cheese, 3/4 of the bacon, 3/4 of the chopped Spring onions, and salt and pepper to taste until mixed through. Fold in cooked broccoli florets.

Fill each potato with the broccoli potato mixture. Top potatoes with remaining cheddar cheese and bacon.

Bake the filled potatoes at 350° F (175° C) for 15 minutes. Top with remaining Spring onions.
Each serving of this recipe contains 447 calories, 47 grams carbohydrate (22% DV), 22 g protein (30% DV), 19.6 g fat (39% DV), 6.8 grams fiber (27% DV), 89% DV vitamin C, 53% DV potassium, 99% DV vitamin A, 157% DV vitamin K, and 14% DV iron.