This delicious chimichurri salmon recipe could hardly be easier to make, and the herby, aromatic sauce takes plain ol' salmon several notches up the flavor scale. Celebrate the fresh leafy green herbs of Spring with this powerfully anti-inflammatory dish. Follow it up with some Strawberry Rhubarb Cookies to harness the delicious flavors of the season!
Here I place my pledge to never make you scroll through 24 paragraphs about what I did the day I first made this recipe, 14 variations on the recipe, and how this was my grandmother's sister's favorite food. You will find the recipe directly below. Happy cooking!
Chimichurri Salmon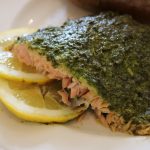 Anti-inflammatory and bursting with flavor, this Spring seasonal recipe will not disappoint and is so quick and easy!
3 Tbsp apple cider vinegar
1 Tbsp dijon mustard
3 whole garlic cloves
1 1/2 cups fresh parsley (loosely packed)
3/4 cup fresh basil (loosely packed)
3/4 cup fresh mint (loosely packed)
3/4 cup fresh cilantro (loosely packed)
1/2 cup olive oil
salt and pepper (to taste)
1 full side salmon
Preheat oven to 350°F (175° C).

Place all ingredients except salmon in blender and blend until well-mixed.

Using a spoon or rubber spatula, spread sauce evenly over side of salmon.

Bake for 30 minutes, or until salmon flakes easily and is opaque all the way through. Cut into fillets and serve.
Each serving of this recipe contains 2.8 g carbohydrate (1% DV), 16.6 g protein (22% DV), 9.7 g fat (19% DV), 1.5 g fiber (6% DV), 291 g vitamin K (323% DV), 1785 IU vitamin A (76% DV), 23.2% vitamin C (31% DV), 1 g omega 3 (87% DV).