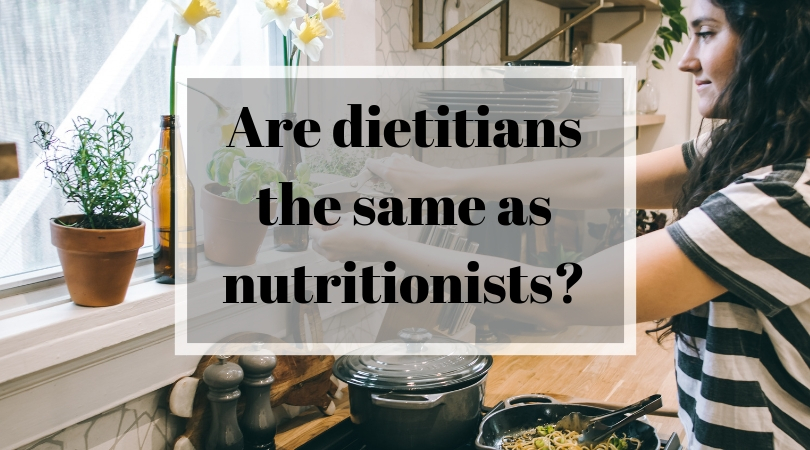 I recently wrote a post called What I Eat in a Day as a Registered Dietitian. Some of you may be wondering what exactly a Registered Dietitian is, and probably even more of you are wondering if or how it is different from a nutritionist. I can help! Here are some of the basics about Registered Dietitians and what we do.
What is a Registered Dietitian?
Registered Dietitian is the designation given by the Academy of Nutrition & Dietetics (at least in the US) to people who have completed certain requirements to be considered nutrition experts. Here are the requirements from the Academy to become an RD:
Complete a bachelor's degree – The classes you take must meet nutrition-related requirements set forth by the Accreditation Council for Education in Nutrition and Dietetics, a brand of the Academy. Some course requirements include anatomy, physiology, chemistry, biochemistry, basic nutrition, macronutrients, micronutrients, clinical nutrition, food science, weight management, and medical nutrition therapy.
Complete nutrition internship hours in a variety of settings – Since dietitians work in so many different types of roles, internships need to include several of those experiences. My internships included clinical inpatient nutrition, outpatient nutrition counseling, food service management, dialysis nutrition, childhood nutrition at a WIC clinic, and senior nutrition with Meals on Wheels.
Pass the RD exam – This test covers all of the required competencies put forth by the Academy
Registered Dietitians must also complete 75 hours of continuing education every 5 years to maintain their registration.
How are dietitians different from nutritionists?
Simply put, "nutritionist" is not a protected term, while "dietitian" is. Nutritionist is a term for anyone who teaches about nutrition, while dietitian is reserved for those who have met the criteria described above. So all dietitians are inherently nutritionists, because they teach nutrition, but not all nutritionists have completed the requirements to become dietitians.
This obviously creates a bit of confusion for consumers – I get these types of questions all the time! A few years ago, the Academy of Nutrition & Dietetics also coined the term "Registered Dietitian Nutritionist," and allows their RDs (or RDNs) to use that term if desired to help clarify their roles as nutritionists.
Where do dietitians work?
Dietitians are working all around you, and you may not even realize it! Dietitians may do all of the following:
Calculate recommendations for tube and IV feedings and nutrition supplementation for critically ill patients in hospitals
Plan nutritionally balanced menus for large food service operations at long-term care facilities and schools
Teach nutrition for general health, managing and preventing chronic medical conditions, and navigating food allergies/intolerances in private practices, hospitals, medical clinics, and chiropractic offices
Provide nutritional guidance to low-income populations in WIC clinics and community health centers
Teach specialized diets for clients in dialysis centers
Monitor the nutritional health of residents in long-term care facilities
Provide nutrition information to the public via social media, blogs, websites, newspapers, etc.
Support athletic performance with proper nutrition in health clubs, gyms, on military bases, and with sports teams
These are just some examples of roles that dietitians fill. Stay tuned, because I plan to make a post soon featuring "a day in the life" of several different dietitians who all work in different settings, to give you an idea of what all kinds of different dietitians eat!
You Might Also Like
Top Ten Most Outrageous Patient Quotes
5 of the Best Healthy Eating Apps to Save you Time and Money
What the Research says About Intermittent Fasting