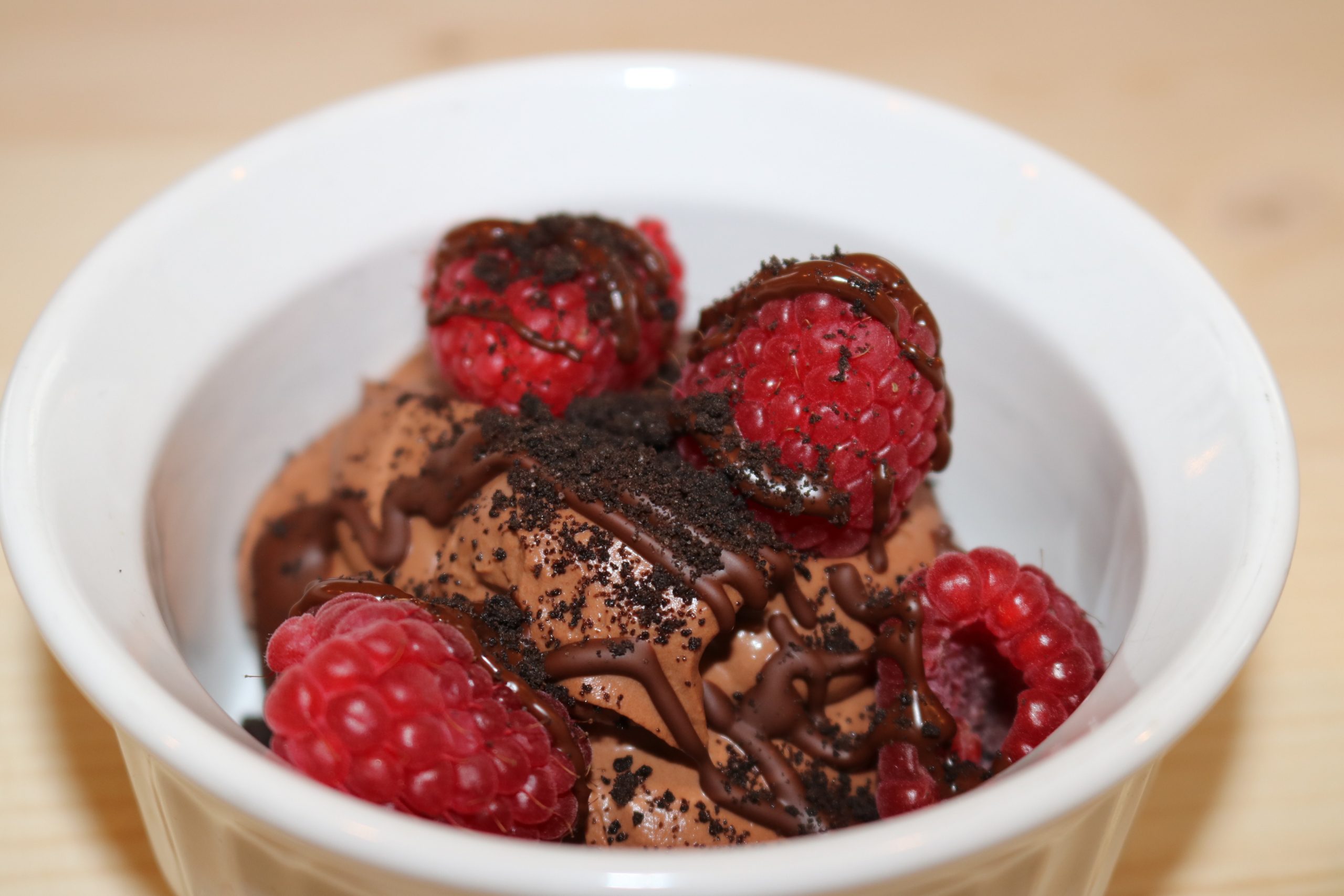 If you've got a chocolate lover in your life (that includes yourself) this is absolutely the dessert for you! Smooth, creamy, fudgy chocolate mousse with a chocolate wafer cookie and some juicy raspberries. Oh, and there's only 5 ingredients! What's not to absolutely love? This make-ahead Valentine's Day dessert will thrill your inner chocolate lover any time of year.
Dark Chocolate Raspberry Mudslides
This 5-ingredient make-ahead delight will satisfy even the most diehard of chocolate fans.
Keyword
chocolate, dessert, raspberry
Refrigerating Time
8
hours
Ingredients
1/2

cup

whipping cream

1/4

cup

dark chocolate chips

50% cacao or higher will work best

1/2

tsp

vanilla extract

4

chocolate wafer cookies

1/2

cup

fresh raspberries

more chocolate chips for drizzling on top

optional
Instructions
Heat 1/3 cup cream in a small saucepan over low-medium heat, stirring frequently, until just starting to bubble around the edges.

Place chocolate chips in a medium-size bowl. Pour hot cream over and let sit until chocolate chips are melted.

Add vanilla and whisk until mixed. Add remaining cream and whisk until mixed. Refrigerate overnight.

Using a stand mixer or handheld electric mixer, whip refrigerated chocolate cream until thick and fluffy.

Place a chocolate wafer cookie in the bottom of two custard dishes. Top each with mousse and raspberries.

Melt the remaining chocolate chips in the microwave on 70% power, stirring every 20-30 seconds. Drizzle over each mudslide, then top with another crumbled wafer cookie.
Notes
Each serving contains 380 calories, 4 g protein, 25 g fat, 27 g carb, 4.5 g fiber, and 111 mg sodium. Use this information only if needed for a medical diet - otherwise, use my rule of thumb: on holidays in particular, enjoy your food and the people you share it with. Don't worry about the rest. 🙂