So how does one make one's heart healthy?
I know you are all just absolutely dying to know how I've been eating (note the heavy sarcasm font), so I thought I'd grace you with some sneak peeks of my heart healthy meals/snacks and the list of recommendations I'll be following for the next 3 weeks.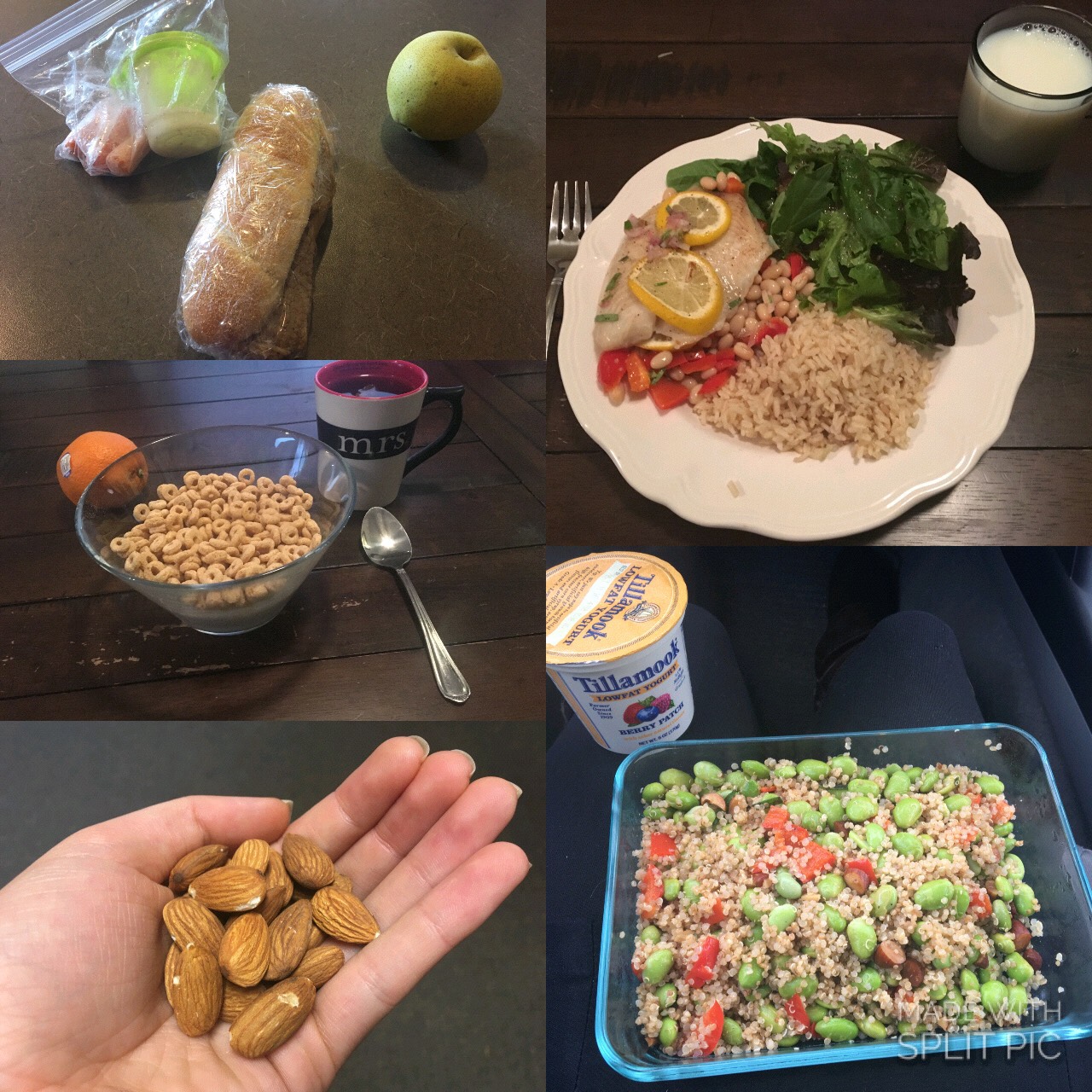 Two days in to my Heart Healthy meal plan, my meals have been mostly enjoyable. My least favorites have been breakfast – too boring, too carby, and too lacking in protein. I'm starving by lunch, even with my morning snack. I have discovered two delicious recipes pictured above (Vietnamese Steak Sandwich, top left, and Warm Quinoa Salad with Edamame, bottom right)!
You can find the full page of recommendations from the American Heart Association here, but the quick gist is paraphrased below:
Use up at least as many calories as you take in (I'm aiming to hit the activity recommendations of 150 minutes of physical activity per week).
Eat a variety of foods from all the food groups.
Eat fresh, frozen, or canned vegetables and fruits without added sauces, salt, or sugars.
Choose fiber-rich whole grains for most grain servings.
Eat a variety of fish at least twice a week.
Eat poultry and fish without the skin. If you eat meat, choose the leanest cuts and prepare them without added saturated or trans fats.
Select fat-free and 1% dairy products.
Avoid foods containing partially hydrogenated vegetable oils.
Reduce saturated fat to no more than 5-6 percent of total calories (in my case, 10-12 grams per day).
Cut back on foods and beverages with added sugars.
Choose foods with less sodium and prepare foods with little or no salt. To lower blood pressure, eat less than 2400 mg sodium per day. Reducing even farther to 1500 mg per day may have an even greater effect on blood pressure.
Drink alcohol in moderation. For women, limit to one drink per day and for men, two. And yes, those drinks have standard serving sizes.
As with any diet recommendations these guidelines have been a subject of hot debate in nutrition, but that's a topic for another day.
Now here's your turn to help me out: pretend you have just had a heart attack (I know, scary – but the good news? You made it!) and you are presented with the recommendations above to lower your risk of it happening again. What are your initial thoughts? Overwhelming? Easy? What the heck does any of that mean? I want to hear it.
If you had to follow these recommendations, what would your questions be? What would you want from your dietitian to make you feel confident in taking care of your heart? Commence to comment in 3, 2, 1…