I started the Trim Healthy Mama plan yesterday and I've been S-mealing and E-mealing all over the place! Yesterday was actually an interesting day for me to start because it wasn't my normal routine at all. My dad had a (minor) surgery so I picked up my grandma and we headed to the surgery center to keep my mom company and help out. This change in schedule was a bit of a test for my first day since I was out and about for much of the day. Here's a rundown of my first crack at THM:
7:15 am – Breakfast (E meal)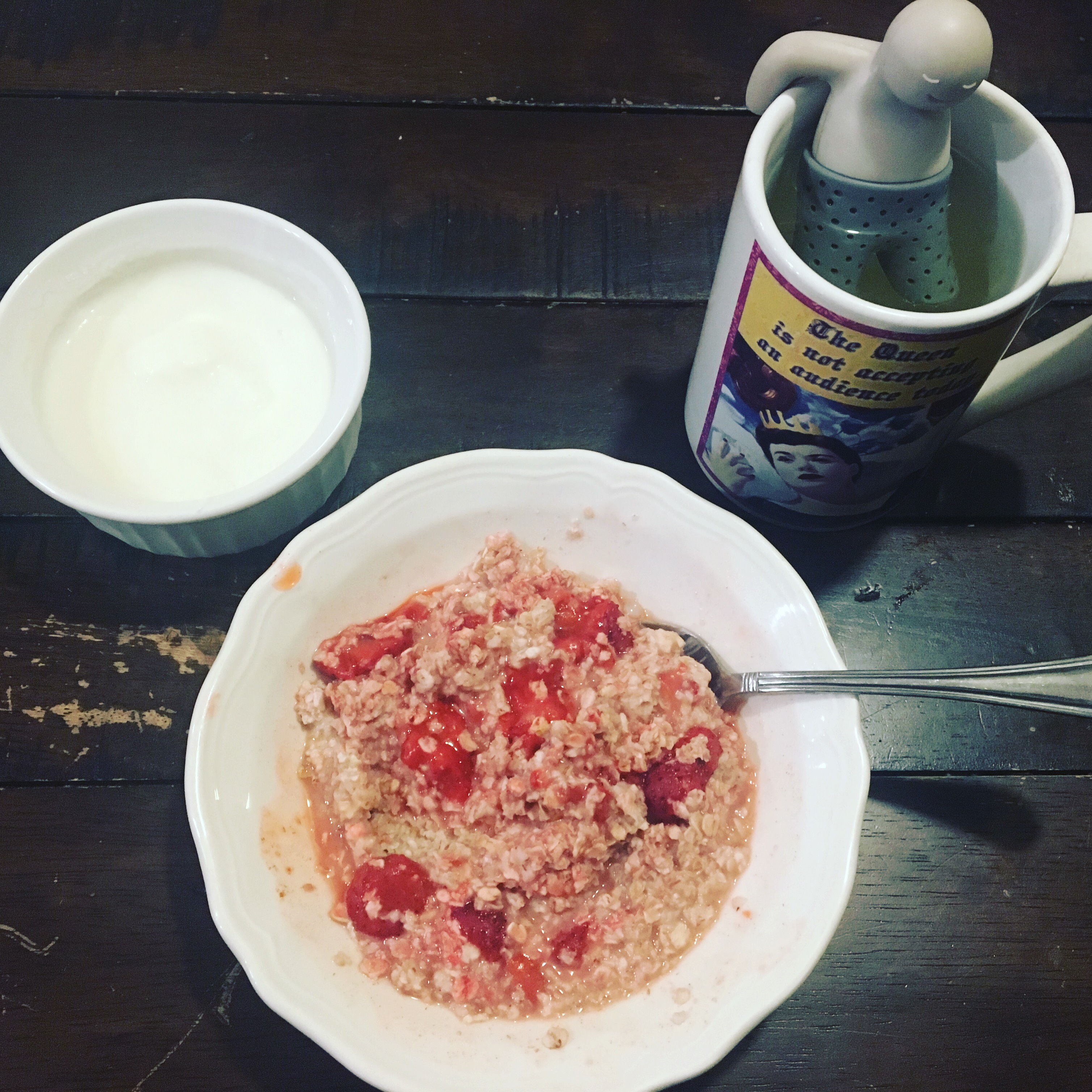 Breakfast time! It was trickier than I expected to come up with a meal, mostly because I do my grocery shopping on Mondays and hadn't bought food specifically for the plan yet. I started with an E meal of oatmeal with strawberries, cinnamon, and stevia. On the side, I had some plain fat free Greek yogurt with a drop of vanilla and some stevia. I was concerned that this meal wouldn't have enough protein to make it all the way to lunch, but I was pleasantly surprised that I didn't get hungry until 11 am. I tossed some oranges in my bag for a snack but never did eat them.
11 am
Dad went in for his surgery and our stomachs were starting to rumble. I volunteered to drop off dad's prescriptions and grab us some lunch to bring back. Most of the portable options in the vicinity of dad's pharmacy were fast food. I remembered reading the chapter in the Trim Healthy Mama Plan
 about eating out. The authors say S meals are the easiest to do while eating out because of the low-carb options at many restaurants. After some quick Googling for ideas on low-carb fast fooding, I discovered that Wendy's has a lettuce-wrapped burger option, so I dropped off the prescriptions and headed over there.
12 pm – Lunch (S Meal)
When I was ordering, I was a little unsure how much food I would need to be satisfied. Generally, if I get fast food I order a kids' meal or a cheeseburger with a small serving of french fries. French fries are a no-go on the Trim Healthy Mama plan because they are high in both fat and carbohydrates (not to mention that they are made of white potatoes, which are also discouraged). I'm a sucker for a salty carbohydrate so honestly that was a bit of a bummer. I planned to order a lettuce-wrapped cheeseburger but then wondered if that would be enough when I'm used to also having a bun and some french fries too. I decided to embrace the concept of an S meal and got a double cheeseburger. Now, as a dietitian, I would consider this meal too high in saturated fat and too high in calories (not to mention sodium), but it fits the THM concept. I thought about ordering a side salad also but their online reviews were less than enticing.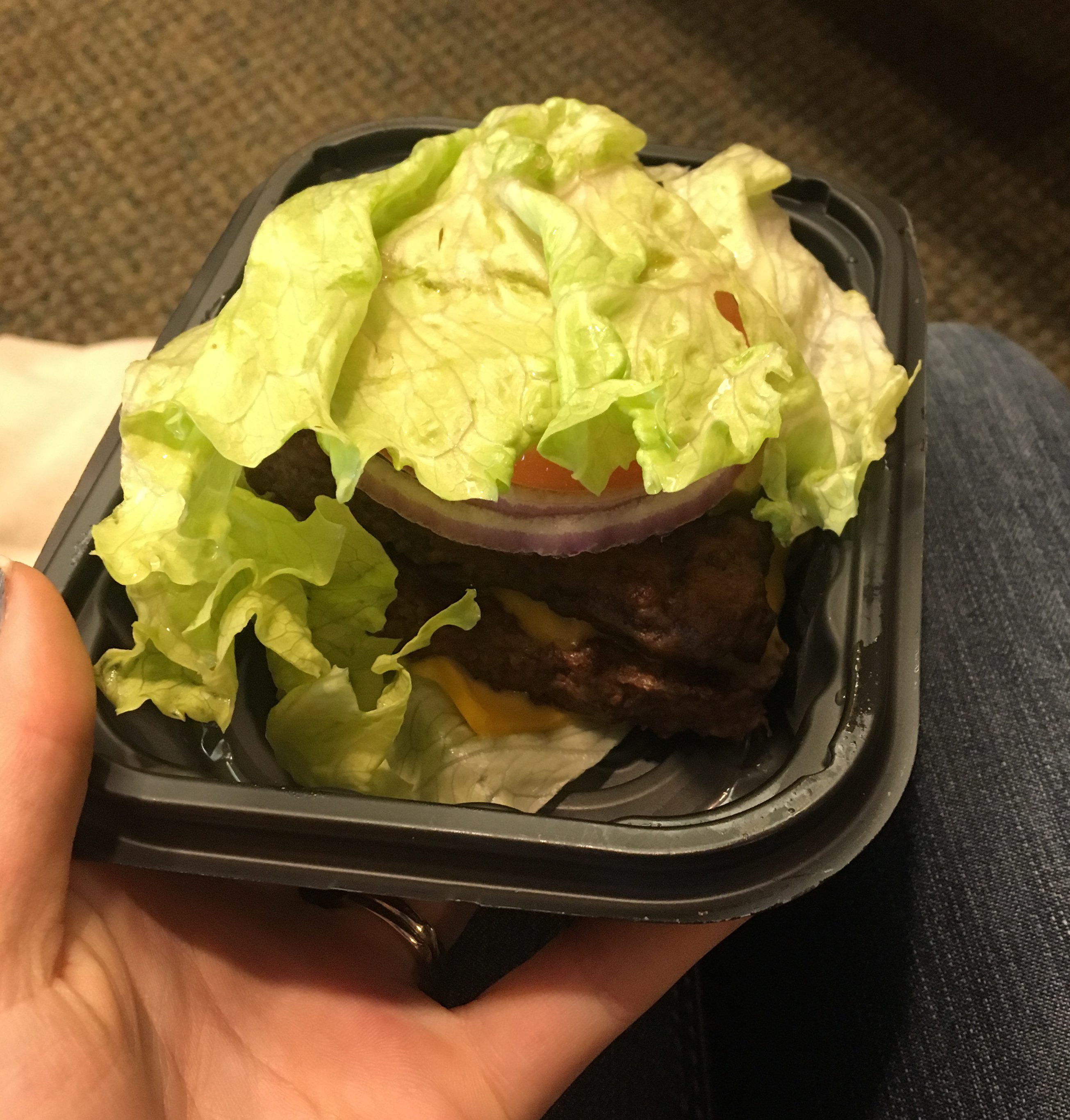 The lettuce-wrapped cheeseburger was messy but delicious. I would order one any time! I noticed that eating a low-carb meal didn't satisfy me as quickly as a balanced meal with carbohydrates does, but after 10-15 minutes the meal's fat kicked in and I was satisfied for hours.
3 pm 
Time for grocery shopping! For the most part, I was able to buy the usual foods my family eats when planning for THM this week. The exceptions included a handful of specialty foods that are recommended to make the diet easier and more interesting to follow. I bought pressed peanut flour (a low-fat alternative to peanut butter, used mostly as a protein source in E meals), almond flour (for grain-free baking), and coconut oil (recommended by the plan for cooking, along with butter). These products were more expensive than the alternatives I typically buy and upped my grocery bill for the week by about $25. The containers I bought will most likely last for the next 3 weeks and probably beyond, so I imagine the extra costs will average out.
6:30 pm – Dinner (E Meal)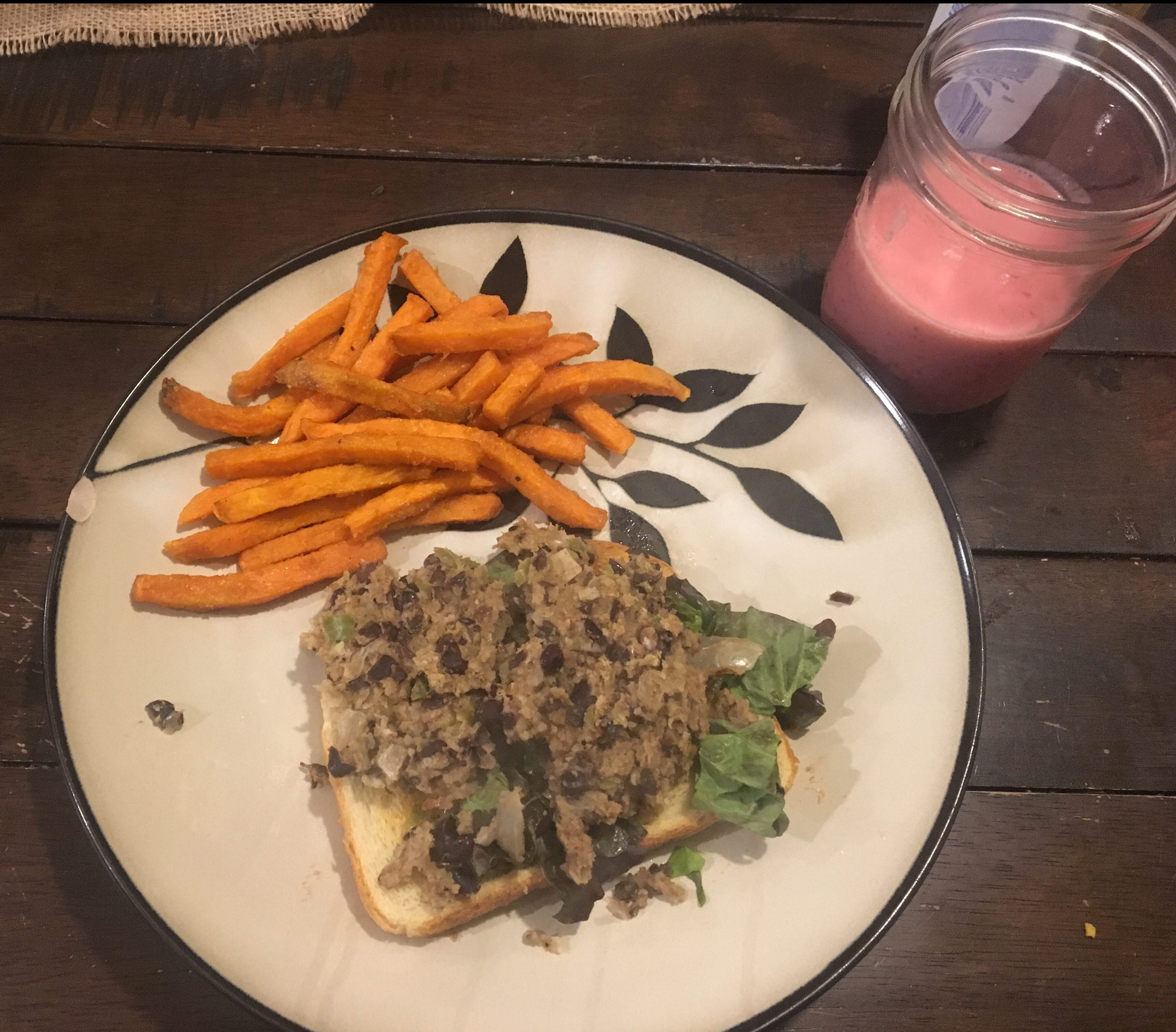 After running around a bit and making sure dad was settled at home, I ended up making a recipe I had planned for last week but never got around to cooking (and just so happened to be a type of burger…déjà vu, anyone?). I was able to use up the ingredients with just a few tweaks for THM. I put my black bean veggie burger (which didn't hold together well but tasted  good) on a bed of lettuce and a slice of sourdough. I made baked sweet potato fries and a strawberry banana smoothie as sides. It was very satisfying and lasted all the way until bedtime!
Overall, definitely not a bad day. It's taking a bit of getting used to, thinking carefully about all of the parts of my meal to make sure to balance fuel sources per the THM plan. I have a feeling my husband and boys will particularly love the S meals I have planned for the week!
Disclaimer: This is not a sponsored post and I have no affiliation with the producers or manufacturers of this product; however, as an Amazon Associate, I receive compensation for any purchases of products through the links on this post.