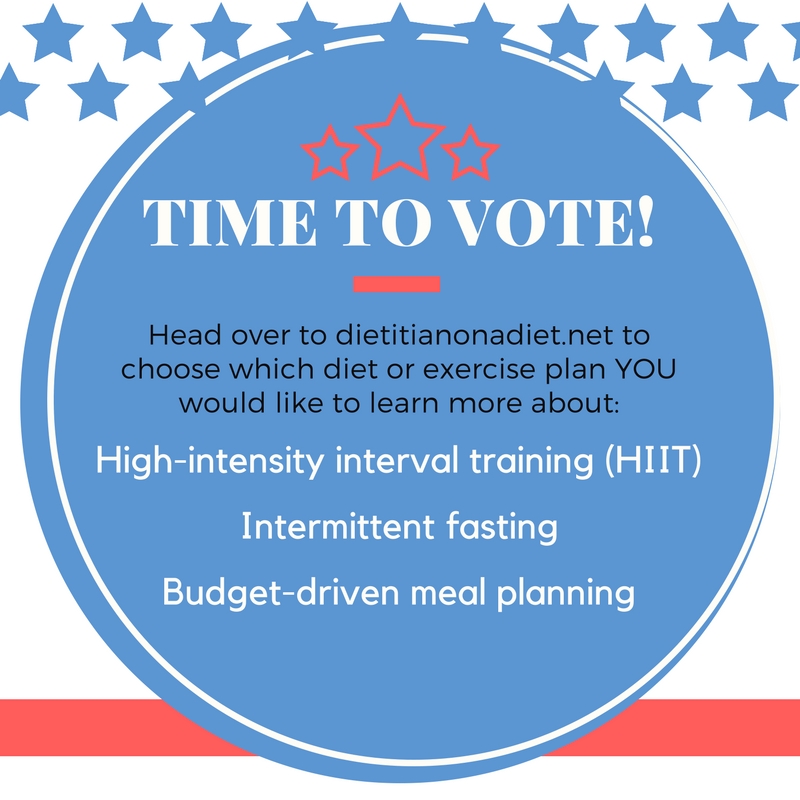 Be sure to enter your vote for Dietitian on a Diet's next feature! The runners-up are:
High Intensity Interval Training (HIIT)
This is a style of exercise training that involves training at…well, high-intensity intervals. This pattern of exercise involves alternating between lower- and higher-intensity bouts of exercise. Research shows that incorporating high intensity intervals can provide many of the same benefits as lower-intensity exercise, but with a shorter amount of time spent exercising. HIIT workouts are often promoted for fat loss, aerobic fitness, blood sugar management, decreasing inflammation, and improving cholesterol.
Intermittent Fasting
The term "intermittent fasting" has been used to describe a wide variety of eating styles and schedules, all based on the premise that fasting has metabolic benefits. These eating styles incorporate regularly scheduled "fasts"; some include complete fasts for 1 or more days per week or 1 week per month, but often (and for the style I would be following) intermittent fasting involves limiting the "eating window" to a certain part of the day and fasting for the remainder. The primary goals with intermittent fasting are often to 1) lose weight, 2) increase energy, or 3) reduce inflammation.
Budget-driven Meal Planning
This is actually a brain-child of mine, compiled from everything I have learned about how to drive the cost of healthful groceries down as far as possible. This way of purchasing food and eating has cut many of my clients' grocery costs by 25%, even while eating healthful food. One particular client, with a family of 8, decreased her grocery bill by 50%! In this I will share what we spend on groceries, where we shop, how I save money, and how I do it all while eating healthfully.
Be sure to vote for the diet or exercise plan you most want to learn more about!