Veggie-Loaded Macaroni & Cheese
Veggie-Loaded Macaroni & Cheese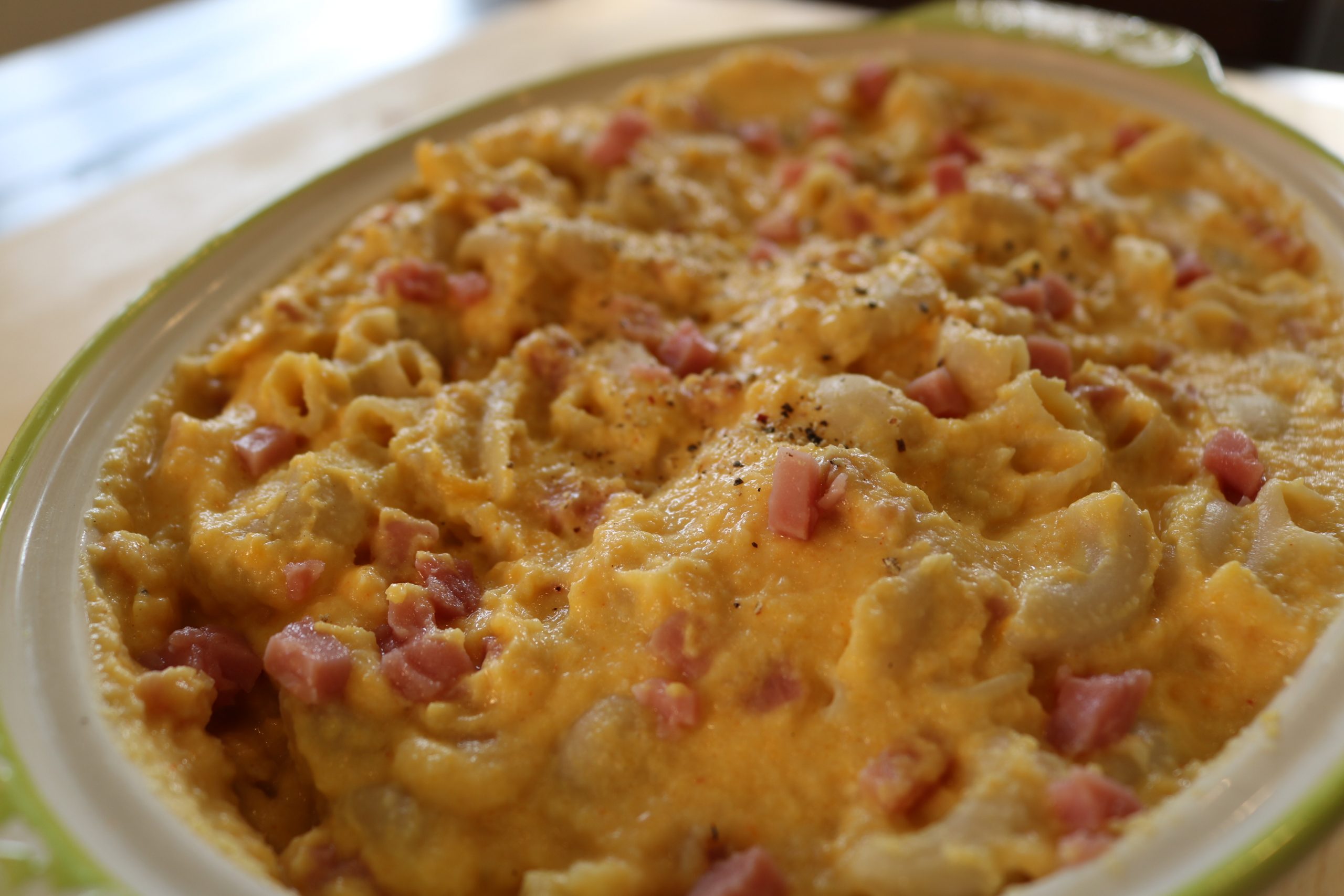 This creamy, delectable macaroni and cheese dish is the definition of a comfort food. Plus, each serving includes lean protein, vegetables, healthy complex carbs, and mondo doses of fiber, calcium, and vitamin A. Putting a butternut squash and head of cauliflower in the cheese sauce may seem like a stretch for maintaining the cheesy, creamy flavor you expect in a good mac and cheese, but you'd be surprised! This recipe has been kid tested and approved by my kids and several of my client's picky tots. While some may find this a handy "hidden veggie" recipe for a picky family, I love it for it's all-in-one simplicity.
One thing to note: this meal contains more sodium and fat than would be recommended for a single dish on a heart healthy diet, however, since it includes protein, vegetables, and healthy complex carbs, it serves as the majority of a meal on its own. If a single serving is not sufficient to satisfy, balance the meal with a low-sodium accompaniment like fruit, a side salad, or some carrot sticks and snap peas.
Here I place my pledge to never make you scroll through 24 paragraphs about what I did the day I first made this recipe, 14 variations on the recipe, and how this was my grandmother's sister's favorite food. You will find the recipe directly below. Happy cooking!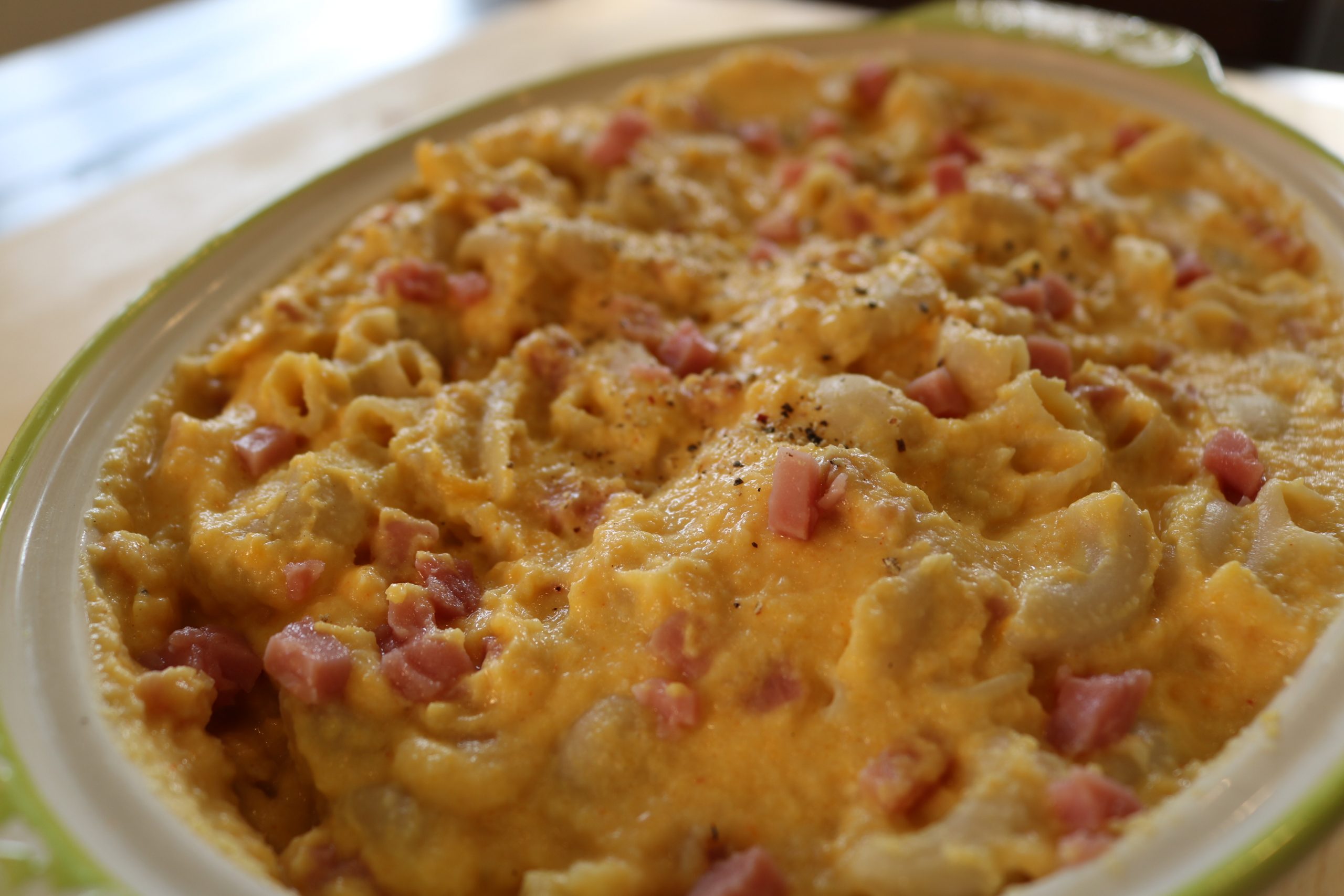 Veggie-Loaded Macaroni & Cheese
Description
This creamy, delectable macaroni and cheese dish is the definition of a comfort food. Plus, each serving includes lean protein, vegetables, healthy complex carbs, and a mondo dose each of calcium and vitamin A.
Place a large pot of water on high heat to boil (include a strainer basket if you have one).

Roughly chop cauliflower into large florets. Carefully peel and cube butternut squash.

You can buy frozen cauliflower and cubed butternut squash at the store to simplify this step!

When water is boiling, add butternut and squash and boil until tender when pierced with a fork, about 8-10 minutes.

While vegetables are boiling, shred cheese.

Strain vegetables from boiling water and add macaroni to same water. Cook according to package directions.

This adds flavor and nutrition to the noodles, but to save time, you can cook macaroni in a separate pot at the same time as the vegetables.

While macaroni is cooking, place squash and cauliflower in a large casserole dish with cream cheese, cheddar cheese, milk, and seasonings. Using an immersion or stick blender, blend very thoroughly until sauce is smooth and creamy and there are no large pieces of vegetable remaining.

If you do not have an immersion blender, perform this step in a regular blender or a food processor and add to casserole dish when done.

When macaroni is done cooking, drain and add noodles and ham to casserole dish with sauce. Stir until well combined.
Serving Size 1 cup
Servings 8
---
Amount Per Serving

% Daily Value *

Total Fat 14g

22

%

Saturated Fat 7g

35

%

Cholesterol 50mg

17

%

Sodium 608mg

26

%

Potassium 707mg

21

%

Total Carbohydrate 50g

17

%

Dietary Fiber 6.4g

26

%

Sugars 5g

Protein 17g

34

%
---
Vitamin A

511

%

Vitamin C

68

%

Calcium

20

%

Iron

10

%

Vitamin K

15

%

Folate

17

%
* Percent Daily Values are based on a 2,000 calorie diet. Your daily value may be higher or lower depending on your calorie needs.
Note
This recipe contains a higher sodium level than may support heart health with certain conditions. To reduce the sodium, try using cooked chicken or chopped Canadian bacon in place of the ham. Balance the meal with a low-sodium accompaniment like fresh fruit or a side salad.
This dish freezes very well, so you can make it in advance and freeze it. Thaw and pop it in the oven at 325 degrees F (162 degrees C) for 30 minutes or until warmed through before serving.
comfort food, creamy, kid-friendly, mac and cheese, macaroni
Recipe Card powered by