Today ends week 1 on carbohydrate counting and I gotta tell ya, this is my favorite "diet" by far. It doesn't even really feel like a diet. I mean, check out some of the awesome meals I got to eat!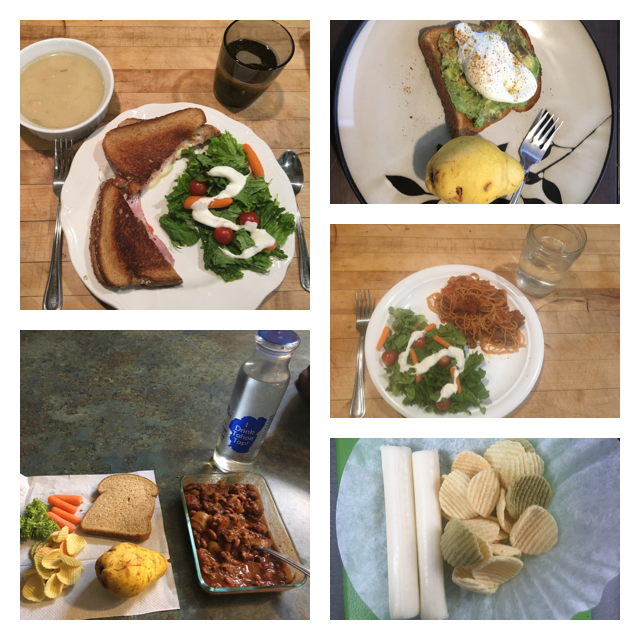 I think part of the reason it feels easy is that I have taught the principles so many times that I didn't have much of a learning curve as far as learning how to carb count. I could recite carbohydrate portion sizes in my sleep…as a matter of fact, I probably do. You'd have to ask my husband.
The greatest part about carb counting is that it is not very restrictive IF you are intentional about balancing your plate with non-carbohydrate foods. You can eat pretty much anything, the most important keys are how much and when. There have only been one or two times throughout the week when there was something I wanted more of but I had already run out of carbohydrates. 
Carb counting feels more like a guardrail than a diet – there to guide me in the right direction and keep me from flying off a cliff on a carb binge.
The most difficult part has been boring beverages. Most of the time I would rather spend my carbohydrates on food than on beverages, which leaves me with tea only rather than tea and juice with breakfast and water instead of milk or a glass of wine with dinner. Overall, not that big of a deal but I have to admit I do miss drinking a glass of milk in the evening.
Here are the details for my first week on carb counting:
| | | | | |
| --- | --- | --- | --- | --- |
|   | Carb Counting Goal | Week #1 | Week #2 | Week #3 |
| # of days nutrition recommendations met | 7 | 7 (yay!) |   |   |
| Average carbohydrate intake per meal | 45-60 grams | 52.4 |   |   |
| Weight change |   | -2 lb |   |   |
| Waist change |   | -.5″ |   |   |
| Grocery Budget Change |   | +18% |   | |
Though this particular meal plan has been very flexible, I'm looking forward to carb counting on my own and seeing how well I can do flying solo!